TV Stands with Mounts for Mobile Workstations and Computer Monitor Floor Stands
Popular Products
---
TV Stands with Mounts for Commercial, Trade Show & Retail Uses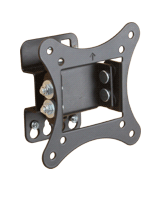 Whether in a home, conference room, trade show booth, or retail store, this TV stand with mounts selection is a provides versitile placement and accesory options to meet your needs. There is simply no other way to present flat screen monitors than with a professional-grade unit. These TV stands with mounts are designed to suit any environment, whether you are presenting video advertising content on a retail showroom floor, a yearly update in a conference room, or are enjoying a large monitor set-up in an office or home workstation. The sharp, yet traditional designs will attract desired audiences to the on screen images. This TV stand with mount, sometimes called LCD entertainment center, collection has displays that can adapt to hold screens at almost any angle or format. What hardware is needed to affix a screen to the LCD entertainment center? Displays2Go sells this TV stand with mount with all of the hardware to display the screen on the brackets. Occasionally, an extra screw or bolt may be required, but those items can be found at any local hardware store. These TV stands with mount are capable of supporting ranges of television screens. 12"-22", 23"-31", 32"-42", and 42"-72" are the different categories available.
Displays2Go manufactures these TV stands with mounts and computer monitor floor stands exclusively with VESA certified brackets. The Video Electronic Standards Association, otherwise known as VESA, created a standard mounting pattern for all major television manufacturers to follow. These TV stands with mounts adhere to the VESA regulations. No matter what brand of flat panel monitor is currently in your display, it will affix to these LCD entertainment centers. These TV stands with mounts, television pedestals, include a number of optional features. Wheels and tilting mounts can both be included with a rack as well for added mobility. Knockdown designs are great for portable showcases. TV stands with mounts that include shelves are designed to be work stations. Literature holders can be added for circulating printed advertisements. These TV stands with mounts project any desired image.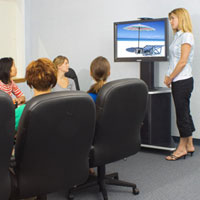 Work station television racks are some of the most popular models in this collection. These displays combine a TV stand with shelving for an adequate desk space. The shelves are available in a number of styles and sizes to accommodate their specific function. Metal and wooden shelves are available depending on which work station is purchased. Some of the shelves are removable for situations where they are not needed. These displays have a number of different applications. Hospital employees often use these work stations to analyze results on screen and keep notes on the shelf. EKG machines, medical cameras, and other test taking devices can be connected to the flat panel monitors. Schools have begun including television work stations for interactive lessons. Museums and media centers are also great places for these TV stands. Television pedestals can be much more than LCD entertainment centers.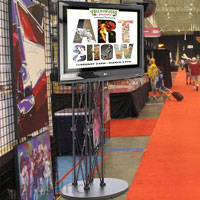 Some of these televison pedestals are ideal computer workstations and include portability, for easy mobility between conference rooms or corporate offices. This is because a couple of the portable entertainment centers include wood shelves that can be used as sit-stand desks. These wooden shelved TV pedestals are ideal for trade shows and other events requiring large booths or computer monitor floor stands. They include an 8' x 8' poster holder that serves as a backdrop to connect the two television racks together. Smaller portable television stands are also available. These LCD entertainment centers can support one or two flat panel monitors. Truss designs, which require not external hardware, are available in 74" and 10' tall sizes. The other styles, which require some hardware, are also 10' tall. All of the portable racks include carrying cases for transporting the stands from one trade show to another. The cases are quite durable and easy to carry.
Is there not enough floor space in the establishment for a floor standing TV pedestal and computer monitor stands? That is not a problem. There are many different wall and ceiling mounting bracket options for supporting televisions of every size, so you can expand the placement of your advertisement displays or computer workstations. In fact, many of the models accommodate a range of television sizes. Customers can choose a stationary display for a straight ahead LCD monitor showcase. The flat panel screens will either screw into the wall mounting bracket, or the bar on the rack will lock the television in place. Many of these computer monitor mounts have slim designs for holding the screen close to the wall. These low profile models are great for busy stores that have customers milling about. In addition to stationary flat panel wall bracket displays, there are many capable of moving the screen. Panning, tilting, and articulating are all possibilities with these models. Some of the tilting mounting brackets feature a motor and remote control. Users can change the angle of the monitor from anywhere in the room. For situations where there is not enough space for a mounting bracket on the wall, this collection includes ceiling hanging television racks. These models can extend and retract to the optimal height. They also can rotate to present the display to anyone in the room. Some of these ceiling hanging racks have mounts on both sides for supporting television screens. Users are no longer limited to keeping their screens on the floor with these wall mounting bracket showcases.
What makes residential LCD entertainment centers different from the other models?
The television displays designed specifically for home use are crafted from a wider array of materials than the other racks. While metal post models are available in the residential section, there are styles with wooden and glass exteriors. These materials are suited more for home décor than the retail and corporate oriented units.
There is a greater selection of finishes and tints on the entertainment centers. Whereas the other units are limited to silver and black polished exteriors, these models have more variety. Wooden LCD entertainment centers include different shades of brown and red finishes, and metal displays can have black tinted glass shelves. Once again, this is to help the stand blend in with home furniture.
In addition to the color and materials used on residential television displays, the shapes of these models are different. They often have softer, more rounded edges for a home interior feel. Even the shape of the glass shelves can vary from squares to ovals.
The cabinet areas on residential areas are designed for residential environments. These television pedestals have decorative door handles and glass fronts. The glass lenses on the hinged or sliding doors allow infrared remote control signals to pass through. Cabinet spaces on these models are also more compartmentalized for diverse collections.
Are there any accessories available with these television pedestals?
The accessories category is full of great television and presentation supplements for the next display. Conference TV mounts for any flat surface are a wonderful way to include video chatting into any presentation. These models feature a sturdy shelf at the top of the television rack for holding a camera.
Many television display operators are including a CPU or laptop for transferring video and images to the screen. Displays2Go offers accessories for accommodating these devices. CPU holders secure the tower and have wheels at the base. Laptop cases are made from durable metal and attach to the base of stands with included screws.
Cases for carrying flat screen televisions are available in this category. These cases have durable exteriors with four wheels at the base. The interior includes padding for increased protection of the flat panel screen.
Television rack users may also be interested in digital media players and signage packages in this catalog. These players can showcase images, graphics, slideshows, scrolling texts, real time news updates, and even live TV broadcasts. There are numerous packages that include a media player, television, and rack for sale now!
For over thirty years, Displays2Go.com has been offering the high quality displays at low prices. It is this unparalleled combination of affordability and durability in their merchandise that has made them one of the leaders in the display field. When people visit this site they are often blown away by the massive display selection. This collection includes illuminated marker boards, roulette wheels, and everything in between. Customer service representatives are available to answer questions about any of the items in the catalog Monday through Friday from 9:00 a.m. to 5:00 p.m. EST. These agents are expertly trained to best assist customers. Feel free to call 1-800-572-2194 to talk to real life person. Customers can also communicate with a representative using the "Live Chat" technology. In addition to great customer service, Displays2Go's shipping policy is a big selling point. All in stock items ordered before 2:00 p.m. EST will ship that day. In order to find out if the desired merchandise is in stock, simply check the Live Inventory Counters on each page. If the number is above zero, the item is in stock. Due to the fact that the warehouses are on site, these counters are updated in real time. Come back to check out all of the new items constantly being added to the collection. Shop with Displays2Go for every display need today!