Realistic Mannequins | Clothing Forms with Skin Tone Finish
---
Realistic Mannequins & Dress Forms for Showcasing Upscale Clothing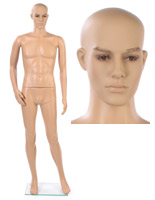 Looking for a unique way to display apparel in a retail store? These realistic mannequins provide a great way to create eye catching displays that are visually pleasing! Realistic mannequins have a natural skin tone finish and are made of durable materials including fiberglass or polyethylene plastic. These displays are becoming more and more popular and have been even making their way into the news. Each clothing display also has accented facial features such as eyebrows, false eyelashes and painted eyes and lips to add to the realistic feel of the form. These store fixtures are found in retail locations and boutiques. All dress forms are effective marketing tools for any apparel shop and create beautiful window displays and advertisements. These realistic retail dummies are the ideal for men's and women's apparel.
These store displays often are formed in realistic poses and feature removable parts such as arms, torso, leg and sometimes head and hands. Please note that each of these fashion mannequins has different features. A detailed description of each model can be found on the individual product pages. Retailers often use these fashion mannequins because they are easy to assemble and accessorize. All retail forms are designed to feature men's, women's and children's apparel. Most of the fiberglass fashion mannequins have fully formed hands and feet. This type of store display is ideal for propping with handbags and thong sandals. These realistic fixtures successfully create unique displays that attract attention without detracting from the apparel they are modeling. Create increased brand awareness with these fashion mannequins!
What are the advantages of purchasing lifelike mannequins?
A realistic mannequin creates retail store displays that are eye catching and effective. Retailers chose these clothing models as they have features that are visually pleasing and provide a natural look.
Customers are often attracted to these models as they provide a more accurate depiction of what the apparel will look like on. This often encourages the client to try the apparel on, and customers may be more likely to make a purchase.
All dress forms have subtle features which attract attention yet do not detract from the overall advertisement. The realistic qualities help keep the focus on the apparel displayed, rather than the model.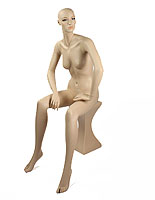 All clothing forms are supported by a heel or calf rod that is anchored by weighted metal or tempered glass base for stability. The metal and glass bases are neutral in color, and are able to blend in with the surroundings as not to stick out. With creative propping, the bases can be hidden from view! Retailers choose these models not only for their stability, but because each store fixture is able to pivot on the heel or calf rod allowing the models to be positioned at different angles to create unique window displays! Often, multiple retail forms are used in conjunction with each other to create larger compositions. Larger displays can be used to create special advertisements to launch a new clothing line, mark a special event such as a sale, or for any other unique and creative visual merchandising need!
What are common uses of these retail models?
Clothing forms are ideal for stores and boutiques that sell men's, women's and children's apparel and accessories. These models can be used alone or in groups to create eye-catching window displays that attract attention and increase traffic into the store. The realistic features of these models helps to create visually appealing ads without detracting from the overall message of the brand.
While the most common use of these dress forms is to create advertisements and window displays, tailors and clothiers use these male and female fashion mannequins for retail as models when making new clothing items or when altering particular pieces.
These dress forms can be used as models for photography for any purpose, especially when live models may not be available.