Abstract Mannequins - Black, Cameo White, Silver & More
---
Abstract Mannequins - For Window Displays in Retail Stores
Looking for durable abstract mannequins to create unique window displays or advertisements? All display racks are constructed of fiberglass for long lasting use. Cameo mannequins have unique finishes that range in color including black, white, and metallic. All clothing forms have a matte or glossy overlay that will compliment any advertisement created. Retailers often choose these clothing forms for their durability and ease of use. Create beautiful and interesting retail advertisements with these retail store mannequins!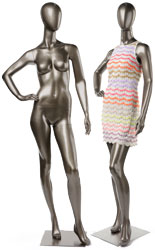 Abstract mannequins have features that are visually appealing yet are not detracting from the apparel that is being modeled. Many of these display forms feature sharp facial features that create an interesting look while others have a faceless design for a softer appearance. Hands such as fisted or partially formed fingers and rounded feet can be found on some of these displays. These features add to the overall interesting and unique appearance of the fixtures for retail display. Merchants purchase abstract mannequins because they successfully model apparel while not detracting from the overall brand message.
All egg head mannequins feature removable parts to make dressing and accessorizing easy! Many of these fashion forms have removable hands, arms, torso and leg and are easy to remove and securely snap in place to ensure parts will not fall off once on display. Some models are poseable mannequin forms and can actually be adjusted! Retailers often find these clothing racks are quick to dress and accessorize and save time when constructing window displays and advertisements. Each of these display models is supported by a heel or calf rod that is anchored by a weighted base. This base is typically constructed of weighted brushed metal or tempered glass, designed to withstand rugged use in all retail locations. Models are able to pivot on the base adding to the versatility of the dress forms, as they can be positioned at many different angles. Retailers often use these clothing racks in window displays to pique the curiosity of passing by customers, encouraging them to enter the store.
Are these fixtures designed to meet the demands of retail environments?
Each of these abstract mannequins is constructed of durable materials including fiberglass which is lightweight, yet rugged enough for continual use in boutiques and malls.
Each model features a sturdy weighted base constructed of brushed metal that provides stability for the racks. The base and rod pieces ensure that each display form will remain in the upright position, and will not fall or tip. Please be aware that merchants should not over accessorize these racks leading to excess weight.
Each of these retail forms feature detachable arms, torso and leg for ease of dressing. These parts detach easily and re-attach securely, so retailers can feel confident that parts will not fall to the ground.
Merchants use these clothing forms to create interesting displays and promotional advertisements to increase brand awareness. Each of these forms is designed to model apparel in an eye catching way, but not detract from the subject of the ad. The abstract features of these fashion figures successfully accomplishes this by helping create an interesting and intriguing advertisement that is eye catching as well as gives an accurate depiction of what the clothing will look like on a live model. Retailers can use these egg head models to create large window displays, or smaller destinations within the retail establishment. Often times, merchants' use these fixtures alone or in larger configurations to create more elaborate and lifelike scenes.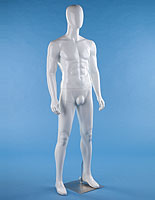 All of these models ship unassembled to help the consumers save on shipping costs. These dress forms are simple to assemble and can be put together in just a few moments. Instructions on how to assemble each dress form can be found on the individual product pages. Assembly can be accomplished easily by just one associate. For ease of use, it is recommended that customers dress and accessorize the fixture during assembly. Retailers may find that the clothing displays constructed of fiberglass are easier to dress in larger sized apparel as the limbs of the models are rigid. To achieve the desired look, clothes can be pinned in inconspicuous places, out of view from prospective clients to make the apparel look its best!
What are the benefits of using these clothing fixtures in retail locations?
Retailers often use these store mannequins as display models that showcase new apparel in window displays. These models create eye catching advertisements that encourages prospective clients to enter the store and browse or try on the apparel, leading to increased sales.
Each of these retail forms feature detachable arms, torso and leg for ease of dressing allowing associates to spend less time dressing the models and more time helping clients in the establishment.
These models are economically priced, allowing merchants to create larger lifelike compositions at a reasonable cost!