iPad Anti-Theft Security Cables Anchor Tablets During Public Use
---
Cable Locking Systems for Protecting Shared-Use Tablets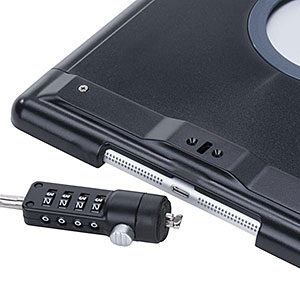 Are you looking for a way to secure a point of sale tablet on a table or countertop? Our iPad anti-theft security cables are an essential accessory for any professional office, retail store, or small business environment. Affordably priced, these tablet locking systems secure your investment while still allowing users the freedom to hold and interact with your touchscreen. iPad anti-theft security cables are designed for counter or tabletop use and come with 6-foot cords, providing easier access for doctor office sign-ins, trade shows, or retail checkouts.
What are the main selling points of these tablet locking systems?
iPad anti-theft security cables are the least expensive option when it comes to preventing a person from stealing your device. Locking cords are much more affordable than a dedicated stand or enclosure.
Schools and businesses also protect their investments with security cables. These institutions often purchase tablets in bulk for classrooms and employees. Locking cords help keep track of inventory while preventing your devices from "walking off" as well.
Maybe you don't want your iPad to be always visible. Our 6-foot anti-theft security cables provide flexibility for display. When a visitor is done signing in, for example, a receptionist can take the tablet and move it behind the counter, out of sight.
To use, simply encircle a solid or immovable object with the cord and insert the combination end through the looped end. Then, attach the lock to your iPad via the Kensington slot on the bracket. The four-digit combination dial can be reset to a configuration of your choice.
In addition, the lock can be used to prop up the tablet at a convenient viewing angle.
While these lockable cord systems offer effective theft prevention, they are an inexpensive solution designed for certain applications. In high-traffic areas, a more permanent type of safeguarding may be required. Locking tablet enclosures not only offer better protection by encasing your device, but they also can be bolted to the counter or tabletop surface for the ultimate deterrent.