iPad Mini Floor Stands with Height Adjustment, Rotation, and Tilt Options
---
Freestanding iPad Mini Kiosks Improve Customer Engagement in Stores and at Trade Shows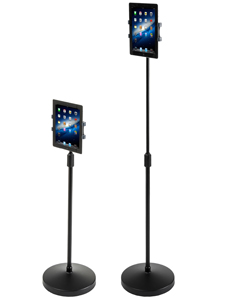 Are you looking to add an interactive element to your business or streamline the checkout process? Our iPad Mini floor stands create an informational kiosk or self serve ordering system that is intuitive for your customers. Most people are familiar with tablets and touch screens nowadays, so setting one up for guest use in your store or restaurant is an easy way to boost interactivity and engagement with your clientele. iPad Mini floor stands with covered home buttons prevent users from navigating away from the content of your choice, but still gives them the freedom to explore product demos, a full catalog of special order or coming-soon items, or more info about the services you offer. Even without complicated interactive apps, a tablet can serve as an easy-to-update and compact portfolio or inspiration guide. Tattoo or piercing studios can load up a simple slideshow of flash or artist work, interior designers and kitchen and bath specialists can display swatches and designs or photos of previous remodels, and small breweries with an ever-changing beer list can give the full details of their current offerings to speed up decisions at the counter. To really increase efficiency, locking and rotating iPad Mini floor stands can be set up to take orders away from the checkout desk, letting customers cut down substantially on their wait times. Tablet displays offer greater versatility than traditional info and ordering kiosks as well. Employees can detach the device to go hands-on with guests, giving them more information or inputting orders for them, while engaging them directly on the sales floor. Adding a level of interactivity to your showroom or shop can have a positive effect on the connection your customers are likely to feel. Allowing them to take an active role in exploring your offerings or viewing product demonstrations will foster a greater sense of affinity with your brand and your business.
What are some available features of iPad Mini floor stands?
Height Adjustable — In order to cater to the needs of all your guests, a tablet holder must be able to move to a comfortable viewing setting. Many models allow for height adjustments as well as tilt to find the perfect viewing angle for anyone that wants to use it.
Locking Enclosures — With a floor kiosk, it's important to know that you can leave it unattended without the threat of robbery or theft. Many enclosures lock (some even feature dual locks) to prevent tablets from being taken while you're busy assisting others.
Rotating Enclosures — Easily change the orientation from landscape to portrait with 360-degree rotation. This kind of flexibility enables you to show different kinds of content or use your iPad as a POS system, where customers can pay and sign right on the screen.
Optional Home Button Cover — Retailers can choose to cover the home button so users are locked into a certain app. This prevents people from accessing functions you don't want them to or navigating away from the specific content you have chosen.
Beyond the worlds of retail and food service, freestanding iPad enclosures are a staple of trade shows and industry events. Often, it's not possible to engage with every potential client or seize on every networking opportunity, so having a hub for information about your business is essential for capturing those otherwise-missed leads. Whether it's loaded up with a slideshow with examples of your work or a contact form to follow up on later, your tablet is the next best thing to chatting with you face-to-face at your booth. If you're looking for an iPad stand to use at home for keeping recipes, instructional videos, or sheet music close by, a lightweight, adjustable height tripod is the perfect companion. Inexpensive holders that fold up and easily store away in a closet are a great accompaniment for your hobbies or learning new skills around the house. In some cases, a floor standing tablet holder may still be too big for your needs. For a more compact solution, check out our locking and non-locking iPad stands for countertops that fit easily on desks and tables for reviewing notes and watching videos.