Cubicle File Hangers Keep Forms and Documents Close At Hand
---
Organize The Workstation with Over-The-Cube File Holders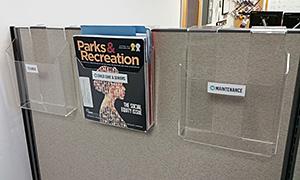 Thinking of pressing your office wall partitions into service? Cubicle file hangers take workspace organization to the next level. By hanging forms, reports, and other documents on the wall instead of the desktop, the "clutter factor" is greatly reduced. Most of our cubicle file hangers feature adjustable metal hooks that fit over cube walls of varying thicknesses. They accomplish this without any damage to the partition itself, especially in the case of today's fabric-covered walls. In addition, cubicle file hangers offer display flexibility. The hooks can be positioned anywhere along the top ledge to keep items within easy reach.
What kinds of hanging folder organizers are available?
Single pocket cubicle file hangers made from acrylic plastic are the most affordable option. These are sized to fit standard 8.5" x 11" literature or documents. The clear acrylic material offers an unobstructed view of the contents. The hooks are not adjustable and are strictly designed for 2.5" thick cubicle walls. A custom-printed folder organizer lets you personalize with your company logo, slogan, or other graphic.
Multi-pocket acrylic stacks increase the capacity four times over. Each pocket connects to the other in a vertical tier design that provides angled dispensing. We stock models for both standard letter-sizes, as well as 4x9 folded brochures.
For more durability, choose file hangers made from heavy, sturdy steel. These styles feature wider interior pockets that can accommodate manila folders. And, unlike the acrylic models, these organizers offer more privacy if using them to store sensitive information.
We also sell the metal hooks separately. Turn virtually any wall mounted rack or other display into a hanging cubicle fixture. The beauty of these hooks lies in their adaptability. They can adjust to fit 1.5" to 2.5" thick partitions (and these are the same hooks used in the products listed above).
As a cubicle worker, whenever you need to grab forms, files, or constantly-used documentation, it helps to have them nearby and within easy reach. Saving your workspace from stacks of paper also gives you better control of your desktop. Using these hanging pockets for inter-office mail is another great application! Your posts get deposited into the holders instead of tossed on the desk. Cubicle displays can also enhance office wayfinding. Nameplate hangers for partition walls identify workstations with clear, legible assignments. This not only benefits visitors to the office, but it also helps employees within the organization as well.