Wall Mount Literature Holders Organize Brochures and Periodicals in Space-Saving Designs
Shop Wall Mount Literature Holders by Type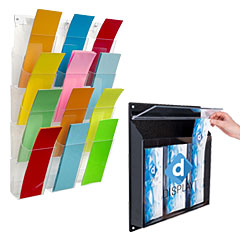 Folded Brochures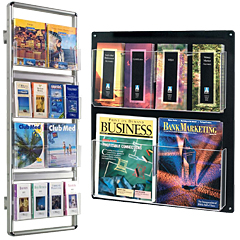 Adjustable Pockets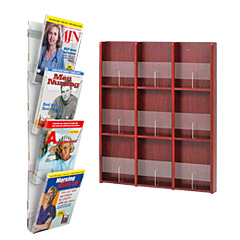 Full-Size Magazines
---
Shop Wall Mount Literature Holders by Feature
---
Wall Mounted Brochure Holders for Magazines, Catalogs, and Printed Media
Does your office or place or business have plenty of entertainment and marketing materials, but struggle with limited floor or counter space? A wall mount literature holder is an essential tool for organizing promotional content in visually accessible locations. Many offices and retail stores use the floor for merchandising displays or even waiting room furniture. Posturing product catalogs or medical information on the wall is an ideal way to maximize visibility. Customers can browse title selections with multi-pocketed wall mount literature holders in your lobby. Our catalog of brochure racks are made from a variety of quality materials, including hard plastic, acrylic, wooden, and metal. With plenty of design and orientation options, you will be sure to find the perfect wall mount literature holder to match your existing decor. Magazine racks not only give your printed media an organized display, but also present promotional content in a professional manner.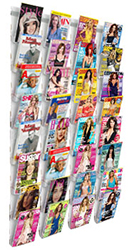 What kinds of brochure and magazine organizers do we carry?
Multi-pocket periodical racks are perfect for showcasing extensive selections articles for entertainment or educational purposes. These models include many tiers or rows, allowing various forms of printed media to be displayed with adjustable pockets. This type of literature holder gives users the flexibility to place a magazine, tri-fold brochure, and catalog adjacent to one another.
Single pocket cases are a focused choice for displaying the same publication or pamphlet in larger quantities. One slot literature holders help disperse items quickly by taking away choices and telling the customer that this article is particularly important.
Office file racks and cubicle hangers are essential for organizing business materials. They are a must-have for any clerical employee! These models include special mounting features and are designed to protect the security and privacy of confidential, and many models are HIPPA compliant.
Exterior rated literature holders are most common in the real estate industry and easily accommodate house listings in full catalog print formats. Outdoor magazine cases are designed to protect printed material from the elements but remain easy to access with flip-open lids.
Literature holders, especially those placed on the wall, organize larger selections of printed media. Take advantage of these fixtures to create a better informed customer base, allowing them to make more educated purchases and decisions. Choose wood finishes such as oak and mahogany, durable metal mesh and wire displays, or from our popular clear acrylic line. For organizations that do a lot of face to face business at checkout, countertop brochure holders, can offer quick-grab information pockets. No matter the application or industry, Displays2go carries a literature holder to satisfy your marketing and informational needs.