FlexStand iPad and Tablet Holders with Universal Compatibility
---
Tablet Stands with Adjustable Enclosures Hold Touch Screen Devices of Nearly Any Make and Model
Are you looking to engage your customers with interactive media or streamline your checkout process? Our FlexStand iPad and tablet holders are sure to give you the right fit, no matter your device's make and model. Set up a modern, touch screen POS system with our swiveling, countertop enclosures that provide easy access for employees and customers alike to input orders and complete payments. Floor standing FlexStand iPad and tablet holders are often used as info kiosks, allowing guests to browse products or learn more about your business while sales reps assist others. If you're looking for a more traditional advertising display, wall-mounted fixtures offer a semi-permanent solution that can show autoplay videos or scroll design ideas while visitors explore your showroom. Rotating and tilting FlexStand iPad and tablet holders expand your capabilities, allowing every user to comfortably interact with your content, whether it's a product catalog or customer survey.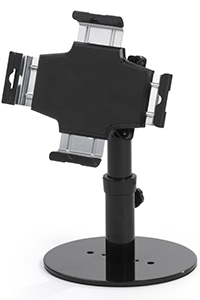 What are some key features of these iPad enclosures?
Adjusting Bracket for Universal Compatibility — Four padded, sliding grips allow our FlexStand iPad and tablet holders to fit just about any device. The vertical and horizontal sections operate independently to accommodate design differences between brands.
Articulating Arm for Perfect Placement — Some desktop and wall-mounted models allow for total freedom in positioning. Extend out to reach far-away users or adjust up and down to get your height and distance just right.
360° Swivel for Expanded Functionality — Rotate to use a suite of different apps or unlock new uses within the handful of essentials you use every day.
180° Tilt to Accommodate All Users — Get the right viewing angle without being locked into presets. Position anywhere along the curve to get the ideal placement for you.
Built-In Cable Management — Some models have clips and channels along their frame to keep wires tucked in and neat. Great for all-day use, this feature helps you keep your tablet charged up and ready to serve your customers.
Locking Mechanisms for Secure Placement — Keep your tablet firmly in place with a keyed lock. These anti-theft enclosures prevent your expensive investment from walking out the door while you're busy elsewhere.
Our FlexStand series features some of our most universally compatible iPad holders. Technology may advance every year, but that doesn't mean you should have to change your displays with every update. If you're looking to set up an info or ordering kiosk that is accessible for all your guests, shop our selection of ADA-compliant tablet stands with a wide variety of compatibility and placement options. It's important to make sure that you find the enclosure that's both a good fit for your device and your business, so check our full suite of iPad display options.