Mobile Computer Workstations
---
Mobile Computer Workstations - Height Adjustable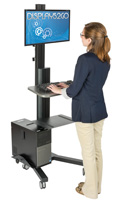 Whether you work in a hospital, office, industrial plant, warehouse, or even a home office, you'll love the rolling abilities offered by these mobile computer workstations! Need to move to another nurses' station or lab room? Easy. Want to watch the news in your living room while you answer your morning emails? Piece of cake. Trying to get the attention of sleepy students in a lecture hall? Done. Simply roll your mobile computer workstation to where ever you need it and continue your tasks. It's never been easier.
Besides their portability, these height adjustable computer workstations offer many features designed to make their users more comfortable and efficient. First and foremost, the majority of these desks adjustable from sitting to standing position! Improve energy, circulation and productivity throughout your day by simply standing up, taking your desktop up with you! Just choose the most comfortable height for you. To learn more about the negative side effect of sitting all day and how you can counteract them with a standing desk, read our sit-stand article!
Next, because these mobile workstations all come with wheels, they feature locking functions for safety and security. Once you've rolled your computer station to the location you'd like it, simply lock your fixture's casters to secure it in place. Now you're free to work in peace without your desk rolling away from you! Many models also come with keyboard trays, mouse trays, and even cup holders! Talk about an all-in-one workstation! Some units are perfect for use with laptops or Chromebooks, while others are designed for desktop computers, even featuring CPU holders. A few workstations even include monitor mounts, freeing up more tabletop space for work. With so many special features and options you're sure to find the right computer cart for you on this page!