Business Furniture - Commercial Grade Desks, Tables, Chairs, and Fixtures
---
Specialty Business Furniture for Waiting Rooms and Lobbies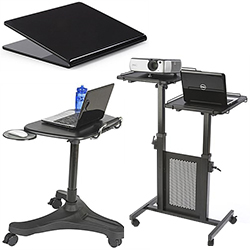 Want to create a comfortable and appealing environment in your office? This business furniture is excellent for increasing productivity and relaxation in any workplace. Whether you're supplying a daycare, doctor's waiting room, or the lobby of a multinational corporation, we have specialty products to meet your needs. Need business furniture, or commercial furnishings, that will make your company look like the leader in its field? Use our modern lines of tables and chairs to give off that "cutting edge" impression. Looking to comfort visitors with traditional wood finish fixtures? Our classic business furniture will make anyone feel at home. Browse this expansive collection, all offered with quick shipping and wholesale pricing.
What types of commercial furnishings do we offer?
Our business furniture combines comfort and affordability with a professional appearance. This can be seen in our large selection of office chairs and seats. We have great seating options for restaurants, lobbies, and waiting rooms in both modern and classic designs. Choose from upholstered chairs with linen, leatherette, or vinyl seats to keep guests and employees comfortable. Browse our chic bar stools in a number of styles to match any interior, including contemporary curved constructions as well as traditional wood frames. Other offerings include elegant specialty heavy duty folding chairs that can support weights up to 400 lbs.
Quality office furniture is important for any business seeking to maximize productivity. That's why we offer tables and writing surfaces with ergonomic constructions and stylish finishes — perfect for accommodating employees or students. Sit/stand workstations are a healthier alternative for desk workers and help prevent a number of ailments. We also provide training tables, both round and rectangular, for productive work in both schools and corporations. Find hundreds of models with ample room for computers and notebooks with sturdy designs. What about reception desks? Displays2go has you covered! Shop our selection of welcoming reception desks that make lobbies look great and feature sufficient space for any secretary.
Looking to accommodate a preschool or a child's room? Our daycare furniture is excellent with bright colors and kid-sized designs. Shop our bookshelves, tables, chairs, cubbies, storage areas and chalkboards that are made from safe low-emission materials. This is a great way to organize children's books and toys while keeping them within reach. These daycare fixtures can also teach kids about responsibility when they store their belongings. Many of our writing surfaces have an adjustable height to accommodate students of any age.
Increase safety and cleanliness in your work area with our flooring solutions. These commercial mats and rugs are ideal for placement in lobbies where they reduce accidents by absorbing water and dirt. Our carpets are offered in a number of shades and some come with the option of custom printing for company logos. Made from durable nylon fibers, the rugs dry out by themselves and are easily cleaned with a vacuum cleaner or hose. We also supply mats with anti-fatigue cushions to assist standing workers with extra support. Trade show flooring is offered here as well! This portable solution adds a professional look to your exhibit booth. Interlocking trade show floor mats are resilient and easy to set up, ideal for traveling to expos.
Need workstations that don't take up too much space? Take a look at our study carrels, or privacy desks are an excellent choice for schools, offices, libraries and even polling places. These workstations have enough space for productive work while they have dividers on each side for privacy. Create rows of single or double sided carrels to maximize productivity in any environment.
Our extensive catalog also includes computer stands and carts that accommodate office workers and make transportation easier. We offer both mobile and stationary laptop holders, as well as large medical equipment workstations for hospitals. Various units from simple laptop shelves to carts with multiple monitor mounts are available to increase productivity in the digital age. Simple models with an angled shelf are great for making presentations in conference rooms and classrooms. Heavy duty computer carts with cabinets, tower mounts, and flat screen brackets are ideal for laboratories, medical facilities, and warehouses.
If you're looking for professional commercial furnishings with stylish designs and affordable prices, look no further. Displays2go has you covered! We stock thousands of great products for completing your interior or assisting your company in its operations. There's more available – chic coat racks for reception areas, director chairs and sit/stand desks. Browse our catalog for thousands of fixtures that will help your organization thrive.