Promotional Games for Business, Trade Shows, and Public Events
---
Portable Games of Chance Provide Fun and Excitement for Everyone!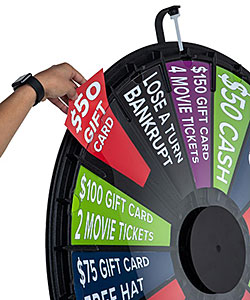 Need to attract attention to your fundraiser, office party, or convention booth? Promotional games are excellent for drawing crowds and creating a fun and festive atmosphere. Eye-catching spinners are perfect for generating buzz at your event, whether you're raising awareness about your company or gathering donations for a good cause. Our promotional games don't just include prize wheels - raffle drums and drop boards are also available for immediate purchase. Create engaging contests and drawings that will get bystanders excited to participate! These promotional games are great for adding a dash of entertainment while meeting your organization's marketing goals at the same time.
Skills need not apply! All of our colorful diversions are based on chance alone. This evens the field so everyone plays with the same odds. Promotional games are a common sight at conventions, where they're designed to draw visitors into their booth. The payoff, of course, is the anticipation of winning cool gifts. Same goes for bingo halls and other gatherings where raffles are organized. Office parties are a great place to feature these flashy contests, creating a fun environment where employees can relax and celebrate. In schools, promo games engage students in events where they might not show interest. Get people to participate in your event by giving them something they want — fun!
What are the three most popular promotional games?
Prize wheels are the classic spinning display, most of which feature pie-shaped wedges with vibrant colors. Once they're given a spin, they appear almost hypnotic with that unmistakable "clicking" sound. Many of our models have fillable slots for your custom printed inserts. Alternatively, try models with write-on surfaces for immediate setup. We offer a sizable selection of wet and dry erase markers for use with these kinds of wheels. Spinners are available in floor standing and countertop styles, as well as adjustable models that can be displayed either way.
Raffle drums are designed for picking winners from a crowd. Hold contests and giveaways with tumblers displaying entries and tickets in see-through enclosures. Once the drums start churning, the anticipation is palatable! Brass models are made from decorative stamped sheets and feature a classic polished appearance and an easy-to-use crank. Also available are clear acrylic spinners that are entirely see-through. In addition, we also offer pads of blank entry forms, tickets, and dispensers for extra convenience when setting up your raffle.
Prize drop boards use random gravity to create an exciting game of chance. Send a puck, pinball, or golf ball to the top and watch as it "plinks" through the different pegs to one of the markers at the bottom. These floor standing or tabletop trade show games are made of plastic and are highly customizable. Each model has a signage holder at the top for your personalized logo and several bottom slots for representing prizes.
Entertainment is the name of the game! Order on Displays2go for quick shipping, usually within one business day or in some cases SAME day. Get organized for the next event by purchasing your spinner or drum from us!