Trade Show Games to Boost Engagement at Your Booth and Draw Crowds
---
Prize Games for Trade Show Booths Create a Fun and Engaging Atmosphere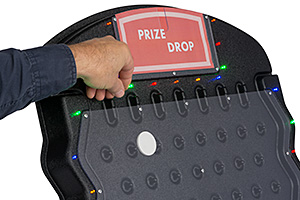 Do you need to spice up your presence at industry events and get more visitors to check out your company? Our trade show games build excitement and hype around your booth, helping to draw in a bigger crowd. You can put together excellent marketing assets, have a great product, and bring along your best people, but sometimes it's just not enough to get the kind of traffic you're looking for. If your competition is also giving their all, some fun trade show games could be the secret ingredient to standing out. Designed to cut through the noise in spaces where there is an overload of stimuli, these engaging activities rely on one of the most basic attraction principles — the power of the group. When a bunch of people are cheering, laughing, and laser-focused on one thing, passersby won't be able to resist checking out the commotion. Sure, you could give away your swag, but why not make it a fun activity with some interactive trade show games? Introduce an element of chance or skill to really pump up the excitement and get people talking about your booth. While they're waiting for their turn, chat with them about some of your great new products
What kinds of amusements can I use to bring attention to my booth?
Prize drop games — Perhaps the simplest of the bunch, these unique trade show games rely purely on chance. Players drop a puck at the top of the board, where it then bounces off a series of pins and hopefully lands in the desired slot at the bottom. Fill it with enticing rewards and a few branded giveaways to get that extra bit of promotional punch.
Prize pinball — Similar to a drop game, this amusement introduces a small amount of skill. Players pull back on a plunger, feeling the same spring-loaded response that makes the tables in arcades so addictive, and send a metal ball flying onto a pegboard, where it drops into a slot at the bottom marked with a prize. Add this simple pinball game to your booth to make your giveaways fun and exciting.
Mini-golf — Let your visitors test their putting skills and win a prize! With a similar setup to other chance-based activities, this attraction puts much more focus on ability, allowing guests to aim for specific rewards with the familiar setup of putt-putt. Bring back memories of a childhood-favorite activity to draw a crowd and use the buzz to engage with potential clients.
Tumbling tower — These games pit competitors against one another as they take turns removing blocks while trying not to knock down the structure. This game can really bump up the excitement for not only players, but onlookers as later rounds become a tense showing of skill and luck. The built-in drama is sure to create a stir and get passersby looking in your direction. Plus, with the option of custom printing on the blocks, you can reinforce your branding at the same time.
Getting people to actually notice your booth is the first and most important step at trade shows. If everyone is just walking right on by, you won't get the opportunity to educate them about your company. Equally important is how you're remembered long after the show is over. Putting your logo onto a prize is a great way to associate your business with a positive memory. Lanyards and keychains are fine, but something useful like branded electronic gifts for giveaways like chargers and earphones are something your clients are sure to remember. By investing that little bit more into making a lasting impression, your booth can rise above the competition.