Commercial Seating Products in Plastic, Metal and Wood Fabrication
---
Seating Products for Commercial Spaces — Office, Lobby, and Restaurant Chairs
What can you expect to find in this selection of chairs that won't be easy to find elsewhere? In a word: Options. Our commercial seating products come in so many styles, colors and fabrications, it would be hard to navigate through all of them. So we've streamlined the offerings to provide you with only the very best. This stylish selection of commercial seating runs the gamut, from iconic desk chairs in molded plastic to upholstered fabric reception chairs with solid wood bases. Our pub stools and bar pedestals come in a wide array of fashionable styles. Don't forget to stock up on folding plastic and metal stacking chairs that are easy to stow away after use. We have a great selection of commercial seating products that are portable. From the boardroom to the barroom, these chairs have you covered, no matter what the industry or décor.
Which specific modern office furniture designs will you find here?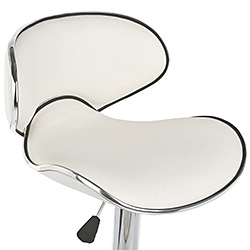 Decking out a luxury bar? We have a smart line of leatherette pub chairs with a hydraulic lift that adjusts from desk to counter-height. Our commercial seating products also include molded polycarbonate chairs with clean, modern lines and a clear finish. How about trying out our modern swivel chairs. They rotate 360&deg and the ergonomic design keeps customers in healthy alignment while they lounge. Everything to turn your bar into a comfortable cocktail lounge is here and you'll have fun browsing this collection of restaurant chairs.

Office furniture for desks and conference rooms doesn't have to be boring. These come in numerous styles and heights to enhance business décor and increase productivity. We also offer ergonomic work stations you can stand, sit, or kneel on. In addition to buying chairs for work stations and meetings, always keep extras on hand for impromptu meetings. Some of our chairs are super versatile, with pneumatic lifts for height adjustability and wheels for mobility.
Directors chairs with custom printing are classics that come in standard and extra-tall sizes. Channel the golden age of Hollywood with this inspired commercial seating! Print your logo and tagline in full-color to boost branding for your business or organization. Our director-style chairs are perfect for restaurants and resorts, trade shows, and team building events. We offer two types of bases for this seating: eco-friendly rubberwood, or aluminum. A popular feature of this chair is that it folds for easy transport and storage.
Need to seat more people than usual? Plastic and metal chairs that fold are often at ribbon-cutting events. Banks and law offices conduct meetings, throw retirement parties, and host holiday gatherings, creating the need for extra seats. Stacking furniture is perfect for special events, and it can be stowed away later without wasting floor space. Folding plastic chairs can be dressed up in our black or white lycra stretch covers for added elegance at banquets and weddings. Lightweight seating is easy to transport and store. Buy it in bulk at wholesale pricing.
Ergonomic desk chairs enable employees to work in sitting, kneeling, and standing positions to create healthier body alignment. This also increases comfort and productivity. Employees can change their position of the angled foam knee and foot pads manually throughout the day. Known as sit-stand ergonomic workstations with base wheels, these portable chairs can be stored to free up floor space.
Comfortable reception furniture in vinyl or fabric makes a good impression on new visitors. Anchored by a solid wood frame that supports up to 400 lbs., these chairs are perfect for a hotel lobby, hospital waiting room, physician's office, or community center greeting area. Some of our reception seating comes in linen upholstery that is stain-resistant and flame-retardant.
Our seating solutions for commercial offices, lobbies and restaurants combine classic and modern styling for aesthetics, high quality materials for durability, and bulk pricing for savings. Most of our chairs arrive assembled. Shop Displays2go for complementary furnishings to create a cohesive look in offices, hotel lobbies, hospital waiting rooms, bars and restaurants. Let customers and clients know they're important - and that your business pays attention to detail.