LED Illuminated Furniture for Trade Show Events, Lounges, & Bars
---
Light Up Tables and Chairs Add Modern Style and Sophistication
When choosing the seating for your lounge, it takes truly remarkable furnishings to make a lasting impression. This LED illuminated furniture offers stunning light effects for creating a resplendent visual setting. Suitable for public events and bars, this innovative seating provides maximum ambiance thanks to the soft, glowing light. Mesmerizing, colorful, even otherworldly, our LED illuminated furniture instantly elevates the entertainment level! We stock standard height lounge tables with cube designs as well as matching cube stools. Taller, pub-style cocktail tables can be used for either sitting or standing. We also offer LED illuminated furniture paired with some of our best-selling pub chairs for an unbeatable combination. If "futuristic atmosphere" is what you're looking for, let these decorative furnishings fill the void!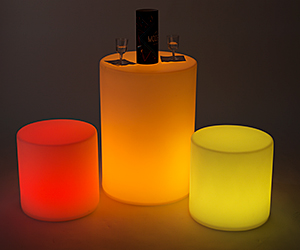 What are the main selling features of these glowing tables and stools?
Our LED illuminated furniture is fabricated from white rotation-molded LLDPE (Linear Low-Density Polyethylene) — the same, extremely tough plastic used for cutting boards. This manufacturing process features zero seams with soft, rounded edges. The material is very strong while offering excellent scratch and scuff-resistance. The plastic is plenty thick enough to support a seated person, yet remains lightweight for easy portability.
Tables are available in square, round, tall boy, and curved styles. The taller cocktail models offer optional tabletops made from 3/8" thick acrylic. These provide more table space while increasing legroom — important if you plan to use pub chairs. These can be purchased clear or with custom UV printing on the reverse side. We urge you to consider branding your tabletops. Adding your custom logo helps reinforce your brand, company, and products to visitors and patrons.
Square tables can be purchased individually or with matching stools. Since they mimic the proportions of the table, the smaller cube stools are the perfect add-on accessory. We've also paired our tall boy models with a selection of modern pub chairs for a complete seating package. These stylized chairs and benches look amazing in their own right — adding them to our illuminated tables transforms them into a whole other level of sophistication.
Outfit bars and lounges with purpose-built backlit furnishings. Our modular lit counters create modern centerpieces to fit in real settings. These models include storage areas for liquor bottles, ice bins for chilling drinks, and corner units to create serving areas. Their water resistant design means they'll be safe from spills and leaks.
If you're not looking to replace your tables and chairs, but still want to create a glowing ambience, consider accenting your space with some LED decor and accessories. Create an unforgettable atmosphere with illuminated ornaments like five-foot-tall teardrops and mesmerizing spheres. For something a little more functional, consider our serving trays, which are available in several shapes to either suit the look of your establishment or complement what's being served. Leak-proof ice buckets are great for delivering bottles tableside and also double as planters and flowerpots.
The fixtures are illuminated with an LED bulb setup located inside the base. Power is supplied by either the plug-in cord or rechargeable battery. For constant light, we recommend plugging the unit into any wall socket. If using battery power, you will get approximately 10 to 12 hours of operation from a single charge. We would like to point out that if at any time, the battery pack or LED lights fail, replacement hardware is available.
The magic is in the glowing lights. You get 16 color combinations with a variety of controls via the handheld remote. Choose to display a static, single color, or opt for a rainbow of colors that blend from one to the other. Also available are flashing capabilities and dimmable control for setting just the right ambiance. Speed is another factor. We suggest slowing transitions down for a more subtle and mood-enhancing environment. You can, of course, use the tables and stools without any illumination, letting the modern white furniture speak for itself.
This cosmopolitan light up furniture is tailor-made for the nightclub circuit, lounges, and bars. The darker the interior environment, the more dramatic the lighting becomes. However, there are other applications that are equally suitable. Enliven your trade show booth with soft, glowing light. Trendy restaurants take full advantage of its cutting-edge sensibility. The hospitality industry uses the furnishings for banquets, receptions, and other events. Event planners purchase these from us in order to rent out to private parties. Whatever the application, these LED tables and chairs provide the WOW factor when it is absolutely required. Set the mood by giving visitors and patrons a reason to choose your establishment over someone else's!