Metal Cafe Chairs are the Perfect Accessory for Sidewalk Bistros & Eateries
---
Stackable Metal Chairs for Stylish Indoor and Outdoor Industrial Cafés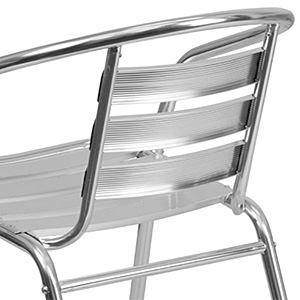 Are you looking for a sleek new style for your restaurant or bistro? Metal café chairs provide vintage seating options for indoor and outdoor locations. Our stackable industrial restaurant seats have found a home in busy cafeterias, schools, libraries, at home, and coffee shops all over the country. Thanks to their lightweight aluminum construction, these metal café chairs can be moved as needed to support large dining parties and stacked away when not in use. This collection features iconic industrial and farmhouse styles to match the modern rustic décor of your eatery inside and out. Place metal café chairs on outdoor patios or decks, allowing customers to populate the sidewalk while they enjoy drinks and entrees. This creates an energetic, busy vibe that entices passersby to grab a bite to eat or enjoy the warm weather in a comfortable atmosphere.
Why are metal café chairs right for your business?
Corrosion-Resistant — each bistro seat is manufactured with aluminum. This guarantees your furnishings will not rust or deteriorate outside in the elements. The models with woven seats feature durable PVC plastic rattan. Painted café chairs come with reliable powder coated finishes in three available colors.
Stackable Design — models that stack offer convenience while cleaning or storing during the off-season. Multiple café chairs can be stacked easily, thanks to their lightweight design. Because of their smaller footprint, storage space is therefore reduced.
Need Tables? — if you're looking to outfit your eatery with the whole package, we offer table and chair bundles. Square tabletops are available in two sizes with space for up to four seats. The round version is smaller and designed to be used with just two chairs. All styles feature raised, diamond plate patterns on the stainless-steel tabletops — an iconic look if there ever was one.
Café chairs are becoming more popular in industries outside of restaurants, namely in school cafeterias and libraries due to their modern, chic design. Offering outdoor bistro-style seating to your patrons is a major draw, as customers can sit and relax in the warm weather while enjoying your shop's food and drink. Tourists and residents alike appreciate an outside dining option, and many times demand it. Incorporating bistro seating into your restaurant's arrangement enhances the quality of your guests' experience and improves the atmosphere of the neighborhood. Charm and uniqueness are what separates districts from one another, so why not help yours stand out? Modern bar stools enhance the restaurant environment too with trendy styling. As a coffee shop or bistro proprietor, you have the ability to conceive an eating space sure to impress patrons. Let this indoor/outdoor seating be a part of your vision!