Privacy Screens and Sneeze Guards Provide Separation Where Needed
---
Frosted Desktop Partitions Offer Extra Privacy in Open Plan Offices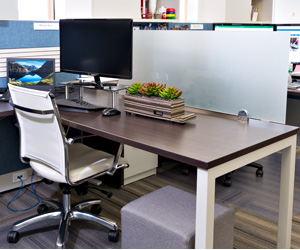 Current trends are pushing more and more businesses towards open-air workspaces. The thing is, not every employee is alike. Some prefer the exposed atmosphere while others wish to have their own sense of space. Privacy screens for office desks can help bridge this disparity. If your workplace has already made this transition, all hope is not lost for those wanting extra partitioning. Our privacy screens for office desks come with a frosted glass finish that lets light through while providing a boundary. However, unlike cubicle walls, their low height still encourages convenient interaction in open environments. These privacy screens are very affordable and come in lots of sizes to accommodate a coworker's needs.
What are my options for purchasing a desktop divider for my workspace?
Each screen is 1/8" thick and manufactured from tempered glass for safety. The side facing out features a frosted surface and the side facing in has a polished finish.
The partitions are also compatible with dry erase markers (on the glossy side only). While seated at your desk, its write-on capability provides a quick way to jot down notes and numbers while helping to alleviate paper waste.
We offer the glass panels in three heights and lengths. Vertically, choose your desired height in 3" increments. Lengths are available at 24", 30", and 48".
Each screen comes with two mounting clamps which are designed to mount with screws permanently. They're fabricated from zinc alloy and fasten to work tables or desks. Their chrome polished finish pairs well with the frosted appearance of the glass.
While they don't block out all office distraction and/or noise, the screens still make a discernible difference. They mask movement from your peripheral vision, helping to improve concentration and productivity.
What measures can I take during times of social distancing?
Acrylic sneeze shields and splash guards provide an extra barrier of protection when necessary. Countertop models are available in modular and knockdown styles for quick and easy setup and takedown.
If you need to interact with people trying to pay with credit cards, for example, we have sneeze guards with pass-thru openings at the bottom. A keypad extender also allows people to pay for their items while maintaining a safe distance from the employee.
Another option is the ceiling hung shield. These acrylic panels come with pre-drilled holes for adding hanging chains or lines. This style is very useful when there is no counter space to accommodate a free-standing guard.
For many office workers, they view the open work plan as benefiting the company rather than the employee. Floor space is maximized with less overhead shelled out for individual cubicles. This business model may be attractive to some, but it all comes back to the fact that every employee is different. We believe in offering people a helpful solution if placed in that type of work environment. All our privacy panels are stocked for same day shipment and priced most affordably. Compare these prices to our competitors — and theirs are acrylic plastic, not glass!