Business Card Pockets On Poster Stands Help Sell Your Services
---
Floorstanding Poster Displays Feature Convenient Business Card Pockets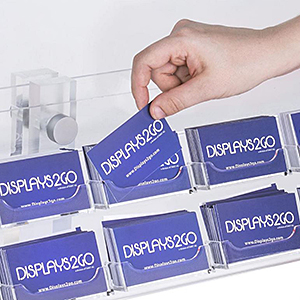 Looking for a high-visibility way to promote your services? Business card pockets on poster stands produce results! By combining advertising graphics with your contact information, you'll be able to create an effective marketing display with maximum impact. Business card pockets on poster stands come with one distinct advantage — they're freestanding. Place one strategically next to waiting lines or in office lobbies. The more foot traffic there is, the better your odds of potential customer engagement. Use business card pockets on poster stands for selling your services; not only for yourself but also for the entire sales team!
What can these floorstanding marketing displays do for you?
Business card pockets on poster stands are tall enough to be seen from considerable distances. Standing at a height of just under 6 feet, your graphics will be right at eye level.
The stands feature similar designs in either black ABS plastic or clear acrylic. A two-post construction supports both the sign holder and business card pockets. The neutral black and clear designs will enhance your colorful advertising efforts while blending into any type of professional environment.
Choose between single or double-sided models with 10 or 20 card holders. The pockets feature a two-tiered design, each with five cards across. The 22" x 28" frame can display one graphic at a time or insert two back-to-back for double-sided applications. To add signage, simply slide it in from the side.
All models ship same day when ordered before 3PM EST. The stands will require simple assembly on your end.
Stocking multiple business cards within a single marketing display makes everything convenient. This is true in the case of financial institutions, healthcare providers, and other service-oriented businesses like real estate agencies. Have a sales team or group of employees that work under one umbrella? Make it easy for others to find your contact information! In addition to providing a central location for everyone's cards, advertise your company or services via the large 22" x 28 sign frame. Project professionalism in the eyes of your clients or visitors. Your graphics can also be changed or updated constantly for displaying targeted content, seasonal messages, or greetings. As an alternative to these large advertising floor stands, countertop sign holders with business card pockets also offer big marketability in a much smaller package. Perfect for on-the-go sales calls, trade shows, and much more!