Wholesale Business Card Displays with Single and Multiple Pocket Designs
Popular Styles of Business Card Holders
---
Shop by Feature
---
---
---
Metal, Wood, and Clear Acrylic Displays for Business Cards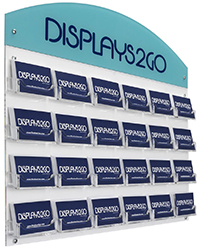 Need to distribute employees' contact information? Wholesale business card displays affordably promote agents and their professional services. We offer single slot stands and mounts for individuals as well as tiered racks to represent entire organizations. Our selection of wholesale business card displays and stands showcase a large quantity of calling cards in an organized yet eye-catching manner. Browse acrylic and metal information dispensers that will attract anyone looking for company and employee information. Our contact info cases are also sold in wooden finishes. With their traditional appearance, wood wholesale business card displays create a classic presentation that's ideal for law and government offices. We offer fixtures in a number of styles to complement any décor.
Our stands and mounts for credentials are made to keep professional information orderly and accessible. The wholesale business card displays for offices are available with both wall mounted and desktop-style designs. These different placement options are excellent for featuring calling cards anywhere. Choose from a variety of single pocket, multi-pocket, and tiered business card displays to hold any quantity needed. By presenting credentials in a rack with separate slots, they're prevented from becoming disorganized from customers browsing through them.
What are the most popular types of contact info cases?
Bulk business card displays make great desk accessories because they can feature workers information with affordability. Our simple acrylic models are highly cost effective and can supply 100 employees for under $150.
Wall hanging business card displays and holders are perfect for companies with many agents. Large office buildings frequently feature multi-pocket dispensers to distribute as much information at once. These wall mounts often include accessories, like headers and signage areas for customization.
Business card displays with custom and personalized cases are ideal for brand promotion. These are typically made from clear acrylic and can be printed with a logo or slogan. There's no better way to keep visitors informed about your company and its mission while dispensing contact info.
Our catalog of multi-pocket business card displays are available in a range of sizes to meet the needs of our consumers and their budgets. For example, our large 48-spot wall mount holders are ideal for use in building lobbies. Office complex managers can display the information for all of the companies and agents working in the facility in a single location. These acrylic dispensers are often used to make a profit by charging a small fee for neighboring businesses to utilize the space. For smaller office environments, we recommend using the tabletop contact card case stands such as our wooden desk racks.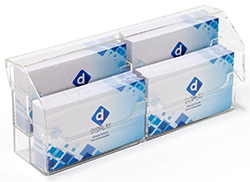 Where else are showcases for credentials used?
Compact card displays are ideal for office desks. Home and professional work areas are both great places to feature the stands, giving visitors an easy method of contact.
Bulk countertop holders for calling cards are well-suited for point of purchase areas in retail stores. Many retailers place an acrylic display near the register, so customers can easily sign up for company rewards cards or buy gift certificates. Advertising like this improves brand recognition and increase repeat purchases.
Our multi-pocket desktop dispensers are great for trade shows and other commercial events. The portable displays have extra room for exhibitors' contact information which may run out at busy expos.
Our wide variety of 3.5" x 2" media holders make promotion easy. Whether you're promoting your services at your desk or featuring all of the agents in the building with a 24-pocket wall mount, we have a solution. Easily bring your credentials to events with our portable acrylic card holders with lids that protect your printed media from getting scattered or damaged by the elements.