Brochure Holders Increase Marketing Potential By Displaying Low-Cost Info Packets
Shop Brochure Holders by Literature Style

Shop Brochure Holders by Material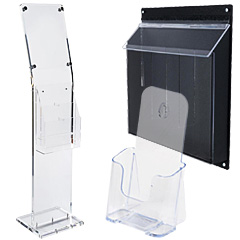 Acrylic/Plastic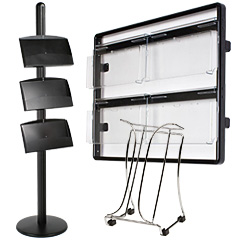 Metal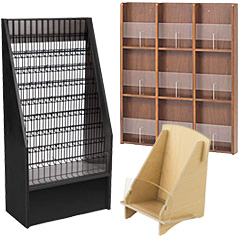 Wood
---
Brochure Holders Organize Pamphlet Displays for Sales and Marketing Materials
Are you looking for a better way to manage stacks of promotional literature in your office? Brochure holders organize marketing material in offices, retail stores, restaurants, and information centers. We provide many styles of pamphlet displays including multi-tier cases and literature racks with adjustable pockets to fit magazines, flyers, and booklets. Brochure holders are ideal for point of sale marketing displays. Place product promotions and visual aids in the hands of customers for increased engagement. Every organization including schools, trade shows, and specialty vendors share material through printed advertisements or physical information packets. Brochure holders, also known as literature racks, accommodate commercial and professional business needs. These fixtures make information available for customers to take home and review on their own time.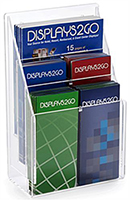 Take-away literature and marketing collateral displays are a cost effective tool for any business. Use a brochure holder to present sales flyers, food menus, and service catalogs. Effective handouts can be designed and printed from any office computer. Businesses use multi-pocket pamphlet displays to store applications, press kits, and promotional materials. These types of flyer racks are essential for any trade show or job fair.
What placement styles of brochure holders do we offer?
Wall mounted literature racks are ideal for businesses that have limited space. Rather than hanging a painting or inspirational quote on your wall, use our displays to offer promotional material to customers in main lobbies, hallways, or entrances. Operational use cases include cubicle hangers, exterior-rated pamphlet cases, and office file holders.
Floor standing literature racks support a range of reading materials including magazines and books. Display fixtures create a centralized information hub. Businesses use these to display a larger array of marketing material or messages from affiliated companies.
Countertop brochure holders place information in front of customers on waiting room tables and at the point of sale counters. Pamphlet pocket fixtures are a great way to offer guests free information. Use to share promotional offerings and extra benefits in the places they frequent most.
Installing a literature racks helps convert curious or one-time shoppers into returning customers. Take-away brochures build brand awareness by giving customers a reminder of your business' services. These displays are great for visitors centers, lobbies, and any other high traffic areas where guests have a moment to read. We carry a large selection of display styles constructed with a variety of materials to match the decor of any environment.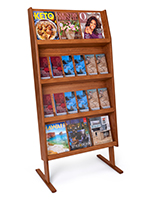 What kinds of materials are used to make these tri-fold holders?
Wooden literature racks feature traditional designs that adds a warm appeal to any office. Hardwood fixtures enjoy a lasting lifespan in high-traffic areas with an upscale presentation.
Acrylic and plastic pamphlet displays are a popular choice for their lasting durability. While most units feature a clear hard shell, some plastic models feature injected molded colors.
Metal wire literature holders for countertop use come in single and multi-pocket designs. The minimalist construction of these racks does not obstruct customers' view of the material inside.
Some models feature adjustable shelving and multiple compartments to suit the needs of various styles of media including magazines, flyers, leaflets, and brochures. More versatile displays allow businesses to adapt a single unit to many printed mediums. Browse a selection of revolving literature stands, which are ideal for presenting a several pieces at once. For acrylic displays, take advantage of custom printing options to attract customer attention and build brand awareness with a colorful logo or message.
Incorporating a literature rack in your business is a surefire way to drive more sales, build awareness, and keep your client base well informed of the latest promotions and events. Brochures are a cost effective tool with a high return on investment. Use our pamphlet design guide to create your own custom brochure and give your customers the information they need.