Adjustable Pocket Literature Holders Accommodate Reading Materials of Assorted Width
Shop Adjustable Pocket Literature Holders by Placement
---
---
Offer Tri-Fold Brochures and Magazines Together in the Same Display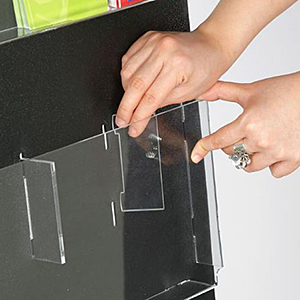 In many cases, displaying reading materials of different sizes inside one organizer is a necessity. Adjustable pocket literature holders accomplish this with removable dividers. This provides welcome flexibility for healthcare providers, welcome centers, and other service-oriented establishments. Promotional materials come in many different sizes — from standard 4x9 folded pamphlets to full-size publications. Adjustable pocket literature holders let you display these disparate items side-by-side. It's an option welcomed by our customers who appreciate being able to arrange information to their own specifications. All it takes is a simple divider that splits the full-size slot into two smaller ones. Shop from over 100 adjustable pocket literature holders, available in floor standing, countertop, and wall mount models!
What are the main features of each brochure organizer style?
Countertop adjustable pocket literature holders are our smallest offerings. If you are displaying just a handful of brochures, these tabletop models are the best option. They help keep desktops and counters free of clutter while keeping your handouts within easy reach. We offer tiered styles in acrylic or metal that stack your literature efficiently with a footprint that saves valuable space. Our tabletop spinners are made of wood with clear acrylic fronts. These rotating models can display 8 full-size periodicals or 16 tri-fold pamphlets — or any combination of the two.
Floor standing literature holders offer more strategic placement. Since these brochure organizers can be placed just about anywhere, their marketing abilities expand dramatically. This is especially true when the pockets are paired with poster displays. Advertise upcoming events, new product rollouts, or other services with eye-catching graphics! You can then augment the campaign with your takeaway literature offered right beneath the poster. We stock 8.5" x 11" sign stands that feature a single brochure pocket, as well as larger freestanding displays boasting 22" x 28" poster frames. Additional styles include rotating spinners, double-sided designs, and stands with wheels.
Wall mount literature racks are the space-savers. Don't have enough room on the floor or counter? Opt for wall mounted pockets instead. We have a style for every application. Shop for sleek black metal mesh racks for a more modern look. Or, select some of our customer favorites like the adjustable acrylic displays. On the other hand, solid-wood wall racks with stained finishes are excellent choices for upscale interiors. Whichever model you end up choosing, all organizers come with removable dividers. Display magazines, 4x9 brochures, or both thanks to this simple and convenient customizable feature.
Distributing leaflets and flyers is a simple task made even easier with adjustable pockets. Their flexibility resonates with customers who need to promote handouts of varying size. Layouts can be changed around as well to suit your needs as they come. Plan to offer nothing else but folded brochures? Displays for 4x9 pamphlets are designed for standard tri-fold handouts only. Get a handle on your front office by better-organizing your promotional, educational, or safety brochures!