Outdoor Business Flags & Hardware with Pre-Printed or Custom Graphics
---
Stock & Custom Event Flags for Outdoor Business Advertisement
Are you looking to draw the attention of passersby from the sidewalk, lawn, or other outside area? Our outdoor business flags are a great way to increase curbside attention and create a welcoming atmosphere for restaurants, museums, real estate agents, and town events. These lightweight advertisement banners feature unique designs and provides high-visibility messaging. Use pre-printed business flags such as feather or teardrop streamers, street pole banners, or pop-up models to wave down new customer attention from the sidewalk. These outdoor advertising displays catch the eye of anyone driving past and informs them about a sale, open house, or delicious food inside. Outdoor business flags are portable so users can install and take down depending on seasonal needs or if weather permits. Each unit features bold text and vibrant colors which are easy to read from a distance and pique curiosity.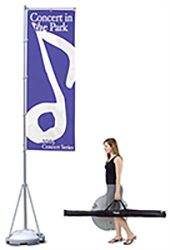 What different options outdoor banners do we offer?
Our 11' pre-printed business flags come in teardrop, feather, or rectangular styles. Most options in this category feature patriotic coloration with sale, open house, or welcome messaging. We even carry 20' telescoping flagpoles to affix your stars and Strips or promotional banner high-up for all to see.
We carry 14' promotional outdoor business flags with a range of messaging for industries including restaurants, apartments, tax services, car lots, and retailers. These banners feature vibrant colors and bold text which attract customers to your business. Each kit includes an easy to install ground spike for any lawn or public grass area near your storefront. These outdoor business flags flutter in the breeze to entice new clientele to visit before they are gone with the wind!
Real estate banners come in a variety of colors, shapes, and sizes to suit your needs. Place welcome or open house signs to encourage passersby to stop by for a showing, increasing exposure. These 8' commercial flags share location-specific information such as if the unit if for rent, for sale, or even how many bedrooms are available. Featuring aluminum and fiberglass poles, these kits break down for easy storage inside any car and are installed at a new property with ease.
Indoor and outdoor event banners are ideal for fairs, concerts, and conventions. We offer double-sided floor stands, teardrop, feather, and pop-up options with custom graphics. These models tower over the crowd, directing foot-traffic and informing guest of event news, offerings, and promotions. Most of these portable options include a fillable water or weighted base. Use our promotional event flags as an effective alternative to traditional static advertisements and reach more customers outdoors.
Street banner signs affix themselves to light poles via sturdy mounting brackets. They are great for sharing historic town information, festival details, or seasonal sales. This type of advertising display is most often seen in downtown city-centers, college campuses, and art districts. Take advantage of custom text options to supplement existing graphics ranging from holiday, shopping, and local graphics. These heavy-duty weather-ready flags dress-up any public area and are printed with fade-resistant inks.
Promotional outdoor banners are an out-of-the-box method of advertising your business, open house, or community. These flutter and wave in the wind, drawing the attention of passersby that otherwise would have kept walking or driving past. Any of these outside banners are perfect for welcoming guest or attracting potential customers. Take advantage of models with custom printing options for personalized signage and event-specific messaging. for a more traditional option, browse our selection of portable sidewalk signs which are ideal for any industry. Use outdoor poster frames and flags to improve your organizations marketing potential and reach new customers in a non conventional way.