Portrait TV Mounting Bracket for Vertical Flat Screens
---
Wall Mount TV Brackets Support Portrait-Oriented Monitors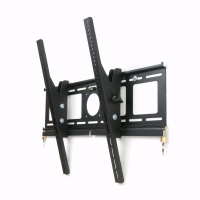 Looking to install a vertically-oriented flat screen on your wall? Pick up a portrait TV mounting bracket for a discreet and dependable solution. These hangers install onto the wall and remain hidden behind your display for a streamlined, nearly seamless look. A portrait TV mounting bracket for vertically-oriented screens is great for showcasing your ever-changing menu to guests. Brewery taprooms and pubs with a rotating beer selection prefer this format because it is suited to longer lists, allowing patrons to peruse all the offerings before making their choice. Electronic menus can also be swapped out on the fly as limited-stock or special items become unavailable. Outside of restaurant applications, colleges, museums, and other public institutions can use portrait TV mounting brackets to create digital announcement boards and wayfinding signage. Keep students up to date on the latest campus happenings without having to print off a new poster every time. Easily make updates to your gallery map to call out new exhibitions or display a listing of personnel and services at local government buildings.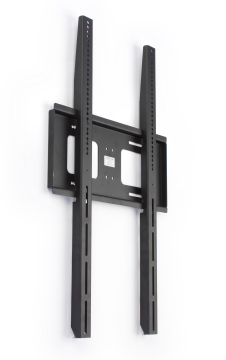 What are some additional features of these vertical wall mounts?
Tilting portrait TV mounting brackets are great for placing your display up high. The adjustable angle allows customers to see it clearly from where they stand. Businesses that cater to large groups may want to place their digital signage closer to the ceiling so it's visible to all guests.
Rotating supports offer maximum versatility. With the freedom to choose between vertical or horizontal display, you can alter the functionality of your screens to suit your needs. Play a video advertisement in landscape mode and rotate when you change back to your digital menu board.
A slim-profile portrait TV bracket protrudes less than 3" from a surface, some even less than an inch — perfect for creating a nearly seamless display. While they lack tilt or rotational functionality, these supports allow your monitor to almost melt into the wall. Spaces with a strong visual aesthetic don't have to compromise their look with these slender hangers.
Each portrait TV bracket is VESA compliant, so a wide range of makes and models are supported. We offer options for small and large monitors, as well. Portrait TV brackets for less than 20" displays are great for creating eye-level digital advertisements in retail stores. Some models even support screens up to 95" for big, highly-visible signage. No matter what size you choose, rest assured that these hangers are built to last. With their strong and durable steel construction, each semi-permanent fixture is designed to hold fast for years to come. If you're looking to go even further with your digital displays, check out our large-format mounts for video wall configurations. These kits integrate multiple screens into a single picture, which delivers an impactful message in lobbies, museums, and shopping centers.