Personal Protective Equipment Dispensers for Medical Offices and Hospitals
---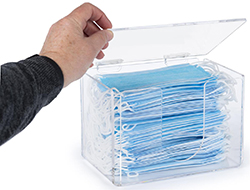 Dispensers for PPE (Personal Protective Equipment)
Need a way to make your essential gear more accessible? Our personal protective equipment dispensers are great for making your face masks and latex gloves visible and easy to reach. These clear acrylic PPE holders are excellent for exam rooms and other healthcare facilities where disposable apparel is required. These personal protective equipment dispensers mount to walls and countertops to make sure that your most essential accessories are always found in the same place. In hectic medical environments where employees are rushing to treat people, it's important that these items are easy to find. Use personal protective equipment dispensers to create a reliable location for your face masks and latex glove boxes.
How do these medical supply holders work? Each personal protective equipment dispenser is made of clear acrylic for full visibility of its contents. Each see-through holder features mounting holes for affixing to walls or counters. This will definitely make sure that it stays in the same location! Our protective equipment dispensers for face masks have a hinged door lid that reduces the likelihood of contamination while they're in storage. Our glove box holders have an open slot that makes it easy to quickly grab these medical supplies. This assists doctors and nurses in quickly examining their patients or responding to medical emergencies.
These protective equipment dispensers are just one line of many that we offer for the healthcare industry. Check out more of our medical office hardware to see more of our essential supplies.