Write-On A-Frames Offered with Aluminum, Wood or Plastic Framing
---
Wet/Dry Erase Sandwich Board Frames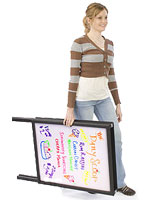 Do you have a lot of foot traffic passing by your store or restaurant on a daily basis? Is your current write-on frame falling apart or looks less than appealing? Start browsing through this sizeable collection of outdoor sidewalk sign boards to find a new replacement for your existing markerboard. There is sure to be a write-on frame here that will satisfy any need. These sandwich board signs are designed in various different styles, including wet-erase, dry-erase, and chalkboard styles! This write-on frame line is designed to fold open and close with ease. Some of the sandwich board signs also feature a built-in handle that makes it easy to bring the display inside at night. The write-on display with aluminum snap framing also includes a protective flexible lens to help prevent the custom message from being tampered with or smudged by curious kids. This lens also minimizes the negative effects of moisture that could occur from being placed outdoors. Other write-on frame displays include an additional header area to display a custom message or company name or logo. Passersby are more likely to enter an institution when there is promotional signage displayed in front of it promoting an event or product.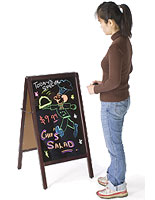 This A-frame sidewalk display, and other write-on frame displays offered here are meant to be used outdoors. Though be advised, sandwich boards could be damaged if left outdoors in severe weather conditions. However, the write-on frame that uses wet-erase markers will keep your message smudge-free, even in damp weather!
Can this write-on frame be left outdoors during less than ideal weather conditions?
Typically a sandwich board, sidewalk sign is used outdoors to attract passersby, and entice them with colorful pictures or promotional messages.
The majority of the write-on frame options offered here feature wood framing or writing boards which are not intended to withstand wet weather conditions.
This selection of sidewalk sign boards should be considered fair-weather signage, and brought indoors if the forecast is calling for any type of moisture or wind.
Does this write-on frame require any assembly prior to use?
Most of the chalk marker boards offered here are shipped as shown on this site.
There is a select few write-on frame displays that require some minor assembly prior to use, however no additional tools are required. The entire process takes one person a matter of a few minutes to complete.
For more information click on any of the items above, or contact one of our friendly customer service associates for assistance.
From this online warehouse, shoppers can buy sandwich board signs and marker sets. Some of these wet-erase sidewalk signs come with markers included, but most are sold separately. These sandwich markerboards are perfect for restaurants or cafés in busy, high-traffic areas. Display a lunch or drink special for passing tourists and business men to see. These pavement signs are also commonly used by retail stores to announce a sales event or the arrival of a new product. These folding signs can be valuable marketing tools for practically any type of institution looking to increase the exposure of their company. This outdoor product line includes chalkboard and wipe off board writing surfaces as well as other sandwich board signs you may need for your dining facility. This e-catalog is your one stop shopping source for your restaurant supply needs. Buy online before 3PM Monday-Friday and your order ships today!
In addition to the sidewalk signs and chalk marker sandwich boards on this page there is an even bigger and more diverse collection of outdoor displays & signs offered here. The complete selection of restaurant supplies and menu boards include; outdoor menu cases, illuminated displays, tabletop signage and much more. There is also a huge range of point of purchase displays and other retail marketing items intended to display merchandise. Other product lines include light boxes, hanging poster holders, picture displays and much more. Do you need help selecting the right sidewalk sign board for your business? Contact one of our call center representatives who would be happy to advise and provide more detailed information regarding any of the fixtures sold on this website. Visit the main e-catalog page for a brief synopsis of some of the more popular display products. This company was founded nearly forty years ago by one man who designed and built basic acrylic displays out of his own garage. Many of these original products are still produced in our factory in MA today, along with hundreds of other fixtures! Over the years this online retailer has grown to become a leading force in this industry. Now with over 250 employees in various departments such as; quality control, woodworking, production and shipping, and three warehouse facilities this corporation continues to grow and flourish. There are approximately 7,000 unique products that make up the more than two million units stored in these warehouses. This large live inventory allows us to maintain an amazing shipping standard! All in stock orders received prior to 3PM ship the same day. Most other requests ship the following business day, or within a specified number of days. Many of the custom graphics items are excluded from this rule, as are large build-to-order display cases. Shop with Displays2go for all your retail merchandising needs.