Wall Mounted Magazine Racks In Single or Multi-Pocket Configurations
---
Wall Mounted Racks for Magazines, Catalogs, Booklets, and Periodicals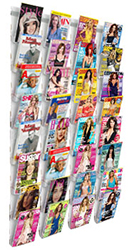 How do working professionals promote their services in offices and waiting rooms? Wall mounted magazine racks are vital tools for organizing promotional literature in public areas. Often, there's not enough floor or counter space for standing displays. These wall mounted magazine racks provide catalogs and periodicals with high visibility. Visitors and customers will be able to see titles easily through the clear acrylic pockets. Match the literature mounts to your interior decor with plastic, wood, or metal styles. Most models feature multiple pockets with tiered designs that store and display large quantities of publications. Mount them to provide patients with reading material or to stock takeaway literature about a company, product, or service. Wall mounted magazine racks not only make for a neat and clean interior, but also cater to your clientèle in a professional manner.
What kinds of literature organizers do we have to offer?
Multiple-pocket wall mounted magazine racks are excellent for busy waiting rooms and building lobbies. With their many tiers and rows, lots of printed material can be displayed within reach. Choose straightforward pockets or opt for ones with adjustable dividers. This gives you the flexibility to insert catalogs of varying sizes as well as tri-fold brochures.
Single pockets are just that — one holder for a stack of the same publication or pamphlet. If you are a lender advertising the latest mortgage rates or a salesperson explaining a cost breakdown, sometimes all you have is the one printed document. A single pocket will help store and display these items for quick customer interactions.
File holders & cubicle hangers are tools for the office. Thanks to their organizing capabilities and specialized mounting features, these racks are a must for the clerical employee. Many models are HIPAA Compliant, designed to protect the security and privacy of patient information.
Exterior magazine pockets are common to the real estate industry. These are sized to accommodate house listings in full catalog print formats. Their design protects your printed publications from the elements, yet provides the public with easy-to-access lift-up lids.
If you're not sure about which style to choose from, you can shop via material. Our categories reflect the three main manufacturing materials: plastic, wood, and metal. Instead of being hindered by style or function, choose wood finishes such as oak and mahogany, or metal mesh and wire displays. Our most popular wall literature holders are the clear acrylic line. These affordable displays feature adjustable dividers and/or multiple tiered arrays boasting up to 32 pockets. We also sell high capacity mounted acrylic brochure holders for featuring tri-fold pamphlets. Our collection of literature holders offers something for everyone, no matter the application. Need a literature rack in a hurry? Get fast shipping from Displays2go.com as well as wholesale pricing on bulk orders.