Wall Display Cases offer Shelving, Interior Lighting, Exhibit Options
---
Wall Mounted Display Cabinets Showcase Retail Merchandise, Exhibits or Collectibles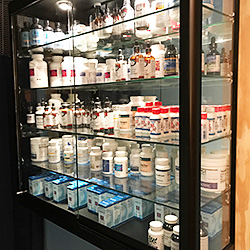 What type of cabinet fixture saves floor space but still comes with the features you'd expect from a high quality showcase? Wall display cases boast the same styling and options as freestanding showcases. Our mounted cabinet selection features styles for retail merchandising, commercial operations, professional businesses, and private collectors. These high quality wall display cases, whether installed as hanging fixtures or countertop showcases, offer a variety of options suited to different needs, including locking doors, interior illumination, and finish color. Choose a sleek and modern aluminum cabinet or go the more traditional route with a wood case featuring decorative molding. A range of security options is designed to accommodate varying needs, from high traffic public environments and exhibitions to private home use.
What are the main hanging cabinet styles for showcasing retail merchandise or collectibles?
Wall mounted display cases with sliding glass doors make up the bulk of this category. Featuring extruded aluminum construction in silver or black anodized finishes, these hanging cabinets look amazing in professional interiors. Some styles have square frames while others feature angled corners for enhanced viewing from the side. Interior depths range from 4" up to a very sizeable 12". They all come with height adjustable glass shelving and sliding doors with locks. Top-mounted internal spotlights highlight your products while the mirrored backer produces the illusion of a far larger interior.
Wall mounted shadow boxes create elegant, museum-style exhibits for merchandise or collections. Roomy interiors easily showcase artwork, figurines, antiques, or personal treasures. The box-style design of these display cases is perfect for creating 3D exhibition pieces without limiting viewability. Impact-resistant lids screw tightly to the bases to protect valuable contents from dust and fingerprints as well as providing additional protection from theft or damage.
Traditional wooden trophy cases with swing-open doors are part of our curio series. Manufactured from oak or cherry wood with finely detailed molding, they bring an heirloom quality to the presentation at hand. These non-locking models also feature adjustable shelves and mirror backs, but no interior illumination and hail from the legendary Howard Miller Collection.
Open-shelf cabinet designs don't have any doors at all. These are designed with small cubbies that are perfect for displaying shot glasses or small souvenirs. Constructed from solid wood in two handsome finishes, these showcases offer excellent value at a reasonable price.
Interior illumination is available on many models to provide maximum visibility for contents. Energy-efficient LED top lighting and brilliant halogen lights are a superior way to attract customer attention to merchandise in commercial environments. When combined with mirrored backers, illuminated displays offer patrons and visitors a 360-degree view of high-value collections.
Wall mounted display cases not only save floor space; they provide extra merchandising real estate inside your retail store. You probably already know the square footage of your establishment, but instead, imagine the square footage of your interior walls. They are especially useful for keeping small, valuable items on display for customers, yet safely protected under lock and key. Additionally, retailers can rest assured that their expensive merchandise won't get tampered with, or worse, stolen without their knowledge. Mount a wall cabinet next to a floor-standing model for generating added interest, or hang one behind a sales counter that will be seen by almost every customer during checkout. Strategic placement plays as big a role as the design and functionality of the cabinetry itself. Target potential customers with new arrivals or seasonal promotions. How about stock you are trying to move? Merchandise presented inside one of these displays can at once appear new and exciting (what the shopper doesn't know won't hurt them).
These wall mounted cases impress with their high-quality construction and fast shipping. Most models ship out same day when purchased before 3PM EST. Elevate your customer shopping experience with one of our professional cabinets today!