Tower Display Cases Available in Several Narrow Styles
---
Round, Square, and Rectangular Floor Standing Display Cabinets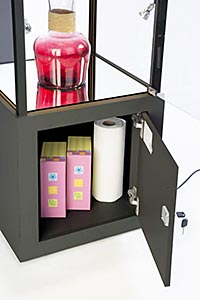 Are you looking for showcases with slim profiles? Tower display cases are great for retail merchandise, as a collectibles exhibit, or residential showcase. When a full-size cabinet is too large or won't fit your space, choose one with a small footprint! These tower display cases still provide plenty of room for your items, and most come with four to five individual shelves. Additional features such as internal illumination, storage bases, and lockable doors come together to provide you with all the details necessary for achieving an attractive presentation. Tower display cases are available in three styles with wood or metal construction, and always feature tempered safety glass.
What are the finer details of these narrow showcase fixtures?
Our tower display cases use up minimal real estate. Thanks to their tall heights, they can accommodate a surprising number of objects. We sell these cabinets in round, square, and rectangular designs. With widths ranging between 14" and 24", they're slim enough to fit into the smallest nooks.
The bulk of our cabinets feature black or silver anodized finishes, so they blend seamlessly into most interiors. If you would like something a little more decorative, choose models with gold or wood-grained finishes.
Towers that come with storage spaces located in the base are excellent choices for retailers. Use the lockable cabinets to store additional merchandise or supplies. As a matter of fact, most of our showcases come with locking glass doors to secure and protect valuables, precious artifacts, or personal mementos.
What if you have objects of varying heights you wish to display? Specific models offer the ability to adjust each shelf to accommodate your items — perfect for creating a well-designed presentation.
For elevating your exhibit to the next level, internal illumination is paramount. We sell cabinets with top lighting that sends a wash of light down the inside of the case. On the other hand, side spotlighting offers greater control. Each mini spotlight can be adjusted to point illumination on a single object.
Whether choosing a display case for retail merchandise or a personal collection, quality plays an important role. Your items need to be showcased to their best advantage, so all our cabinets are manufactured to professional standards. This ensures your fixture will look as good as the objects it is highlighting! Displays2go stocks a wide selection of glass cases. If you're looking for more display area, mid-range showcases offer widths up to 42" that incorporate all the same great features listed here.