Metal Wall File Organizers for Folders & Charts
---
Metal File Folder Racks & Wall Mount Filing Systems
Need to sort and categorize important information in your office? Check out these metal wall file organizers! The durable steel construction and large variety of pocket configurations make it easy for any office manager to quickly sort mail, file folders, and other literature. Each compartment is perfectly sized for traditional folders, but other publications like magazines and catalogs can also be inserted into the hanging racks. The versatile designs are ideal for use in doctors' offices, schools, and waiting rooms. The lobby of any business will benefit from the mounted file racks. You could even add a metal wall file organizer to the entryway of your church or other community center to distribute resource information to members. No matter where you hang the vertical file holder, you can be sure it will last due to the strong steel construction.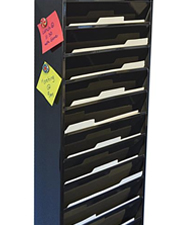 Efficiency is crucial for every business or non-profit, especially when multiple patients and projects are being managed at the same time. These multi-pocket filing systems attach to the wall to save room on already crowded desks. Many of the filers are compatible with hangers that fit over standard cubicle partitions, which makes them perfect for offices. In addition, they allow users to quickly and easily locate the information needed for specific tasks. Keeping files at your fingertips is a great way to save time, increase efficiency, and spruce up the office all simultaneously. Choose the number of compartments that suits your business or office's needs from the wide variety of options. The vertical filing systems that mount on the wall are available in several colors and finishes like silver, black & white, so it's easier to match your existing decor or interior design scheme. Take advantage of better file storage when you purchase any one of these folder racks.
How do wall mounted metal folder racks help businesses in high-traffic areas?
During a busy work day, employees have much else to worry about than the state of a folder holder in their office lobby, waiting room, or reception area. The metal design is easy to clean on-the-fly, and features tight pockets to keep your documents safe and secure without the risk of getting jostled around or mixed up.
Great for medical offices, nurses and doctors can tuck patient records into these metal wall racks as a low-impact storage fixture. With a thin physical profile, these file holders leave space for additional office equipment to help your staff.
With social distancing and public health awareness at an all time high, these file holders do well at storing needed documents in an easy-to-clean, accessible manner where one employee can utilize the fixture at a time. The metal slots shield files from contaminants and can be wiped down daily to avoid the risk of spreading infectious disease.
Durable metal wall mounted file holders enjoy a long-life in high-traffic areas and are resistant to damage. Customers who utilize these fixtures do not need to replace them often, which is great for companies looking to cut cost, remain on budget, and still take advantage of a stylish fixture.
When you're at work, you don't want to be slowed down by sloppy filing. The ergonomic design of each steel pocket features a slight slant that keeps folders very accessible. While the folders are mostly concealed inside the compartment, the tops stick out just enough to make it easy for office workers to read tags and labels. Healthcare settings need to grab files quickly without much thought in order to keep patients moving along. Keep your clients happy by installing a vertical folder rack that gives you that "quick-draw" ability. Need multiple organizers to outfit your whole location? No problem! Our wholesale prices allow customers to save more per unit when they buy in bulk, so order yours today!