Merchandise Metal Display Cases Feature Locking Doors, LED Lights, & High-End Appeal
---
Metal Retail Store Cabinets Secure Valuable Merchandise in Cohesive Cash Wraps, Counters, & Showcases
Are you looking for the perfect fixture to shopfit your retail location that will last years to come? These metal display cases are built with quality materials and are designed to withstand consistent use in high-traffic environments while maintaining their appeal. What makes these fixtures so durable are frames built from steel or aluminum, which gives them durability and style. Metal display cases feature shatter-resistant tempered glass panels, which reduce the risk of injury if broken. Outfit your store with these showcases to present collectibles, merchandise, or even family heirlooms at home!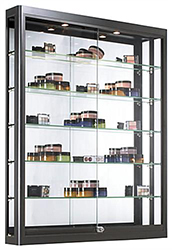 We offer a variety of metal display cases with many style options to suit the needs of any retail environment. Shop from a selection of floor standing, tower, countertop, and wall-mounted units and choose the one that best exemplifies your product line. There are many additional features as well, such as LED track lighting, locking glass doors, and bottom-loading storage. These metal display cases are ideal for galleries, schools, and any other high-traffic public areas as well. You'll find that these fixtures' durable frames quickly turn them into a quality investment, no matter the location they're used or what you choose to display in them.
What features are most commonly found in these display cases?
Bottom-loading storage compartments help retailers store relevant office supplies and additional products in a readily accessible locations on the sales floor. This is a great tool to utilize in locations that have rotating products, or even in art galleries to showcase different pieces throughout the day. Merchandisers take advantage of extra storage capabilities to ensure these display cases are always fully stocked.
Display cabinets featuring built-in lighting are ideal for specialty shops and jewelry stores. LED track lighting provides ample illumination to bring full product lines into the limelight. Luminous fixtures increase visibility and capture customers' attention and offer side and top style lighting. Use these units to showcase high-end products such as jewelry, collectibles, and art.
Each display case features locking doors, which increases security in retail locations by safeguarding products from damage or theft. Ensuring that high-value items are only accessible by store employees provides more opportunities to cross sell when a customer shows interest. Your patrons will be able to shop a wide variety of wares through tempered glass panels.
Many of these display cases are a part of a cohesive line of products available on our site. Be sure to note item descriptions to mix-and-match similar finishes and dimensions in order to create unique solutions to your particular retail store layout.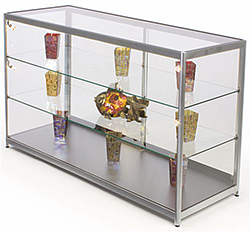 What types of retail display cases do we offer?
Showcases are typically tall retail units with multiple tempered glass shelves that are ideal for merchandising larger lines of products. These units come in either wide or narrow options to suit your product presentation needs.
Wall-mounted cases are a great way to save space and highlight products in an underutilized area. Create visually stunning, attention grabbing exhibits for valuable products such as electronics, art, and collectibles.
Pedestals are used by merchandisers and art gallery curators use to highlight a single unique item. These cases are ideal for creating museum-style presentations and are great for promoting samples of new product lines.
Retail counters are commonly used to outfit store layouts, direct customer traffic, and provide a place to handle transactions. These shorter units have one, or two, interior tempered glass shelves which keep products highly-visible
Providing customers with a cohesive theme throughout your retail store will improve the overall shopping experience, make it easier for them to browse, and make purchases. Sometimes simply having products available isn't enough. Ensure that your patrons get all of the promotional information they need by utilizing countertop literature holders to inform everyone of upcoming sales and events. By creating an informative, and streamlined shopping experience your retail location will naturally increase sales!