Posted on 06, September, 2019
Last Modified on 09, September, 2019
It's that time of the year again. As summer comes to a close, you start seeing retail locations stock up for Halloween, and soon enough… Christmas. Why does it seem like stores are decorating for the holidays earlier and earlier each year?
When customers are shopping for gifts, they usually have a list of stores in mind that they know they can turn to. To become apart of this evoked set, large department stores spend millions of dollars per year on holiday promotions, and even completely transform their in-store experience for a few months during the holiday season.
According to a survey from Market Track, half of consumers complete their holiday shopping by Thanksgiving, so you don't want to wait until the 25 Days of Christmas to start decorating. With this retailer's guide, we'll help you get your store ready for the holidays.
Promotional Banners and Signage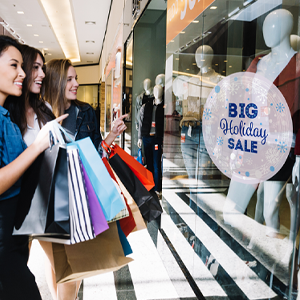 It goes without saying that you should always support any sales and events with in-store signage. This is even more crucial in the months leading up to Christmas when customers are actively on the lookout for deals. To support these promotions, consider a variety of signage throughout your store like banners, posters, decals and countertop sale signs.
Store Shelving and Merchandising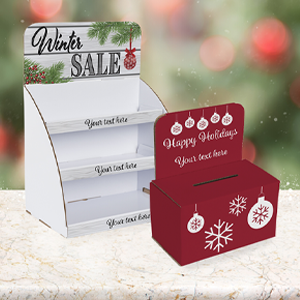 As seasons change, so should your inventory. Seasonal staples like candles, candy canes and gift baskets often make their way into department stores and boutiques as early as September. To display this merchandise, retailers can purchase temporary point-of-purchase displays made of cardboard with pre-printed festive designs that make seasonal inventory stand out on the shelf. On your existing store shelving, add decorative garlands, tinsel, ornaments and lights to put your shoppers in the Christmas spirit.
Outdoor Decor
If your business has a storefront or is located on a main thoroughfare, it may be a good idea to place holiday feather flags outside, attracting gift shoppers to your location.
To decorate the parking lot, dress up your bollards with festive designs like candy canes and snowflakes, and decorate light poles with garlands and Christmas lights.
Gift Wrapping Station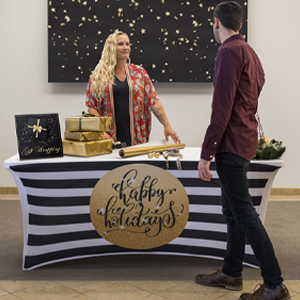 For many, one of the most difficult parts of gift-giving is gift wrapping. You'll often see gift-wrapping stations scattered throughout shopping malls and inside department stores, but even a small boutique can stand out by offering this additional service. What do you need to create a gift wrapping station?
To craft your gift-wrapping station, start by dressing a table with a fun, holiday-themed table cover. You can either print your own, branded table cloth or choose from themed pre-printed messages like "Happy Holidays" and "Merry Christmas." Then, top your table these essentials:
• Gift wrap
• Ribbon
• Gift Bags
• Tissue paper
• Scissors
• Clear scotch tape
Checkout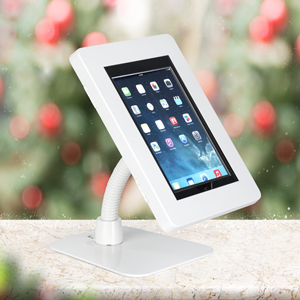 A fully decorated store doesn't stop with banners and product displays but also can stretch to the checkout. For many shops, the holiday season is among the busiest. When your line extends out into the aisles, you may need to add stanchions to control the flow of the crowd. You can decorate these stanchions with holiday wraps that feature festive designs like candy cane stripes or snowflakes. Temporary graphics create a bit of magic and makes your queue look like the North Pole.
Giveaways and contests are also popular during the holiday season. When hosting these promotional events, place seasonal contest entry boxes at the checkout and other locations through the store to collect participants' information. These boxes can also be used to collect donations for local non-profits and charity organizations.
To accommodate an influx of shoppers, you may need to hire extra help or supplement your payment process with self-checkout POS systems and kiosks. iPad kiosks not only support the flow of customers during the holidays but can also be used for various purposes throughout the year like for lead collection at special events or to display interactive product information in the store.