Posted on 02, November, 2017
Last Modified on 06, November, 2017
Do you have a friend who eats, sleeps, and breathes owning a restaurant? Sometimes, it's tough to figure out a gift for our foodie buddies. We've imagined up a fun selection of gift ideas that may help a restaurant or bar owner stay a little further out of the weeds. Some of this stuff, you'd never think of, but are honest-to-goodness life-savers for the owner of a dining establishment!
1. Locking iPad Holder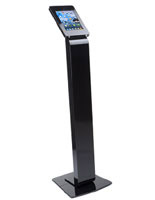 iPad Kiosks are a huge deal on the restaurant scene. This floorstanding tablet stand is locking and hides cords out of sight and out from underfoot! Your chef friends will love you if you show up with this for their entryway! So many uses...
2. Generic Purpose Poster Holders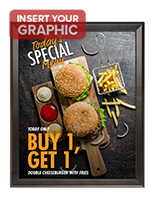 Nearly all eating establishments feature a poster or two. Get your buddy a 24 x 36 poster holder for their signage or artwork. You can never go wrong by bringing your restaurant buddies tidings of easy advertising and graphic cheer!
3. Tabletop Menu Holder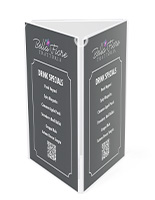 So, what pub have you ever been into that hasn't featured a slew of tabletop menu holders? None. They all have 'em. Pick your restaurant owner pal up a bunch of these and they'll thank you. Chances are, their's are looking a little beat up.
4. Flip Menu Holders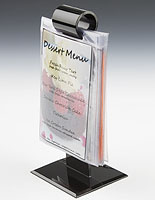 Big brother to the last unit, flip menu holders are aweee-sommme. Cheap, durable, and holding up to 20 pages of tempting offerings, these babies are a must. Walk up to your restaurant friend with a package of these with a bow on top and they'll kiss you!
5. Trash Binnnns!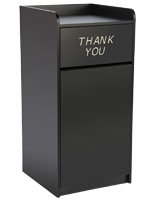 We know what you're thinking. "Why in the world would this be a good gift?!" Well, it's simple. These commercial trash receptacles are a lifesaver and a necessity. Let's face it, where there's food, there's waste! ... Just give the idea a chance. We're trying to think of everything here.
6. Chalkboard Signs for the Win!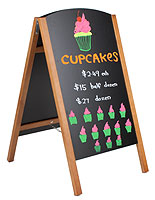 Sidewalk signage is HUGE! Nearly every bar or restaurant down on Main St. has a punny, fun, and eye-catching chalkboard sign outside of their establishment. These ones just happen to be the best.
7. A Rolling Hostess Station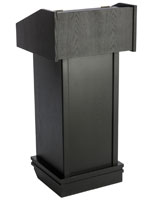 That sounds fun, doesn't it? A rolling hostess station? Grab one of these to gift to your mate if nothing else but because you'll win an award for it. A greatest-present-ever, friend award. Super easy to reposition in different entry points, these hostess stations are a staple in every dining establishment.
8. LED Menu Holders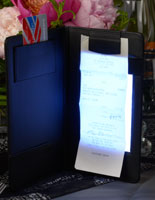 The grand-daddy of our other menu holders, this one is super cool! An LED menu holder is dazzling and something your friend may not have thought to buy for their restaurant or pub. One thing is for sure, these illuminated menu bi-folds are a great way to make a fancy impression on guests. Do your bud a solid and help her add some flare to her beverage selection!