Posted on 17, November, 2015
Last Modified on 24, August, 2020
When choosing or creating an outdoor sign for your business there are many key factors that you need to keep in mind. This article will go over ways to maximize the impact of your sign on your target audience. We'll also cover the types of construction used for creating an outdoor business sign and the logistics of typography, text size, and placement.
Materials
If you're choosing to construct your own business sign, the first thing you need to think about is what material you will use. The sign material you choose can affect which type of printed graphics will be available to you. For example, if you choose to use a vinyl banner material, you will have options for printing type as well as color choices. If you choose wood, you will want a strong, long lasting type like armour-wood or sandblasted redwood as a good base for your graphics. These types of hardwoods are also perfect for luxurious looking signage. Other material options, such as plastic, Palboard® and metal, are also great for outdoor environments. If you use metal, you will want to make sure to choose one that is non-corrosive like aluminum. This will prevent the metal from rusting over time. LED outdoor light box signs are great for businesses open day and night who prefer to use metal signs who need their signage to transition throughout the day. For a lower price, but with the wood sign look, HDU plastic is what you want to use. It has a great wooden look, but without the maintenance.
Placement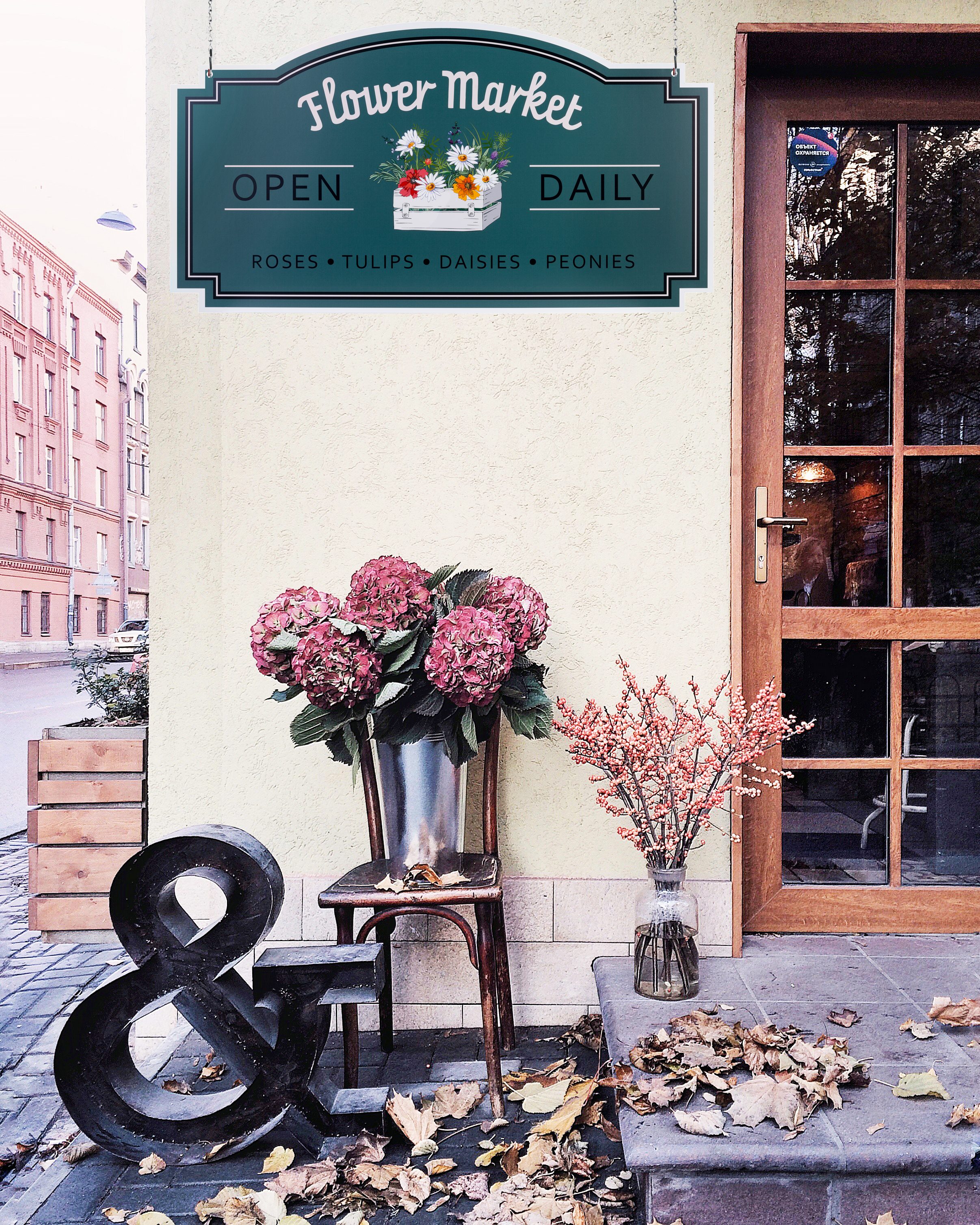 Does a sign exist if no one can see it? Of course, it does but you just wasted your money! You want to make sure you install your custom business sign in a place where everyone can see it. Here are a few tips for positioning your business sign in the best place possible for everyone to see.
Be noticed. Stand out from the surrounding environment
Get creative! Design a custom shaped sign to stand out amongst your competition.
Make sure the sign is not so high that the potential customers can easily miss it.
Make sure the sign is close in proximity to the viewer. Don't hide your business sign away from the road.
Look at the business surroundings. The sign shouldn't blend or get lost in with the color of the building. Steer clear of obstructive objects like tree limbs or bushes.
Create a Clear Message
The single most important job of a business sign is so that the customer can easily find your business. Your mission is to make sure that people who aren't associated with your brand can easily understand what you do with just a brief glance. Design the sign so that your company name and profession are in larger type size. For other information like your address or slogan, smaller font size is perfect. This will create less of a distraction from your main subject of the signage. Below is an image of a simple yet highly effective business sign. Notice how the general information is much larger than the rest.
Simple Sign Creation Tips
Typestyle is key - Use the proper font for an easy read
Contrast for readability
3-dimensional text does not read well
Well-lit for night
Compelling colors
Equal balance with logo and text
Sample Sign with the Ideal Format

Conclusion
As you can see, you should't just throw some information on a banner and print it out at your local printing store. You need to do your homework. It is both exciting and affordable to create your own signage, but you must remember to implement all these recommendations to make your fancy new sign viewer-friendly, stylish, and effective.