Posted on 11, March, 2015
Last Modified on 29, July, 2019
Do you have picture frames of different types or sizes that you want to hang in groupings? There are many ways to hang frames to create a stunning presentation. If you are in need for frames remember that your local antiquity stores, flea markets and online e-commerce stores can provide photo frames that you are looking for to help you get started. See wall display templates below for ideas.
Getting Started
Before getting started you will need the following tools and accessories to make the perfect grouping of frames.
Picture Frames w/ Hangers
Photos / Artwork
Scissors, Paper & Tape
Hammer & Nails
Measuring Tape & Level
Collect Your Frames
Start by collecting your frames and deciding which pictures you would like to use. This is important to know in order to create the best layout. Make sure to account for frame sizes and available wall space.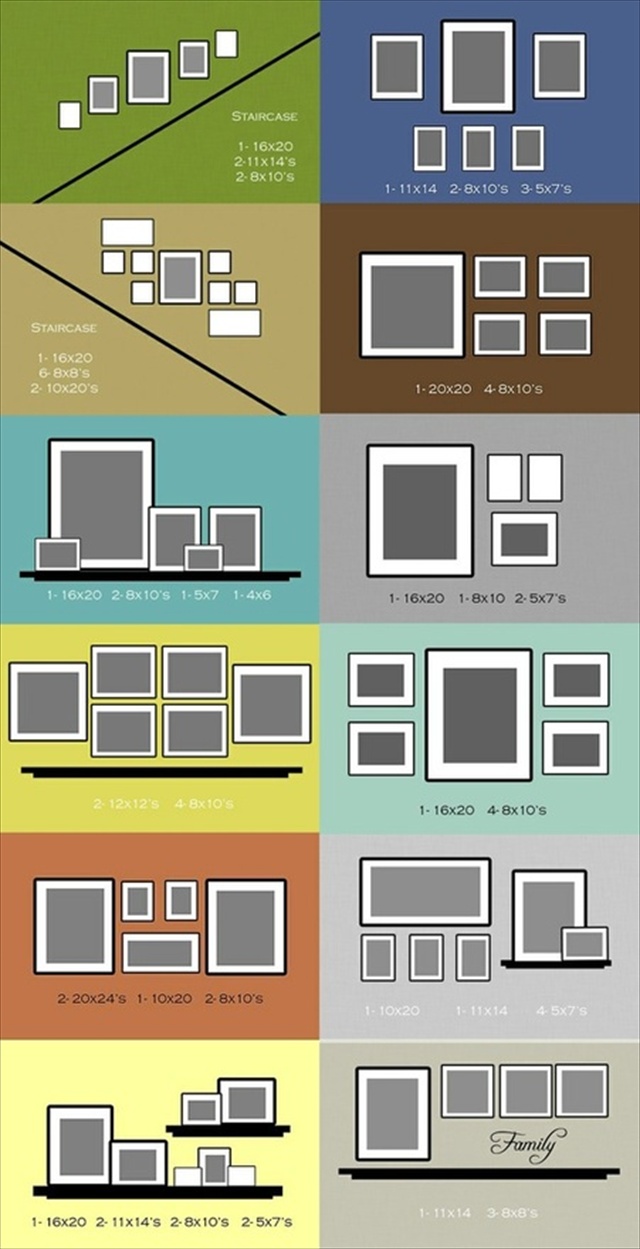 Frame Organization
Decide how you would like the frames organized. There are many different methods. Some like the simple horizontal or vertical look. First, decide which wall you want the grouping to be on. There are many different places you might want to put your photographs. The living room, a hallway and even stairway photo walls are popular. It is easier to do with the same size and type of frames to create a sense of order, but it is also common to use all types of frames for a different look.
Start by laying the frames on the floor to see what layout you like. Make sure that you know the color scheme that you want. Keep in mind that having all the frames the same color will make organizing much easier and seem less cluttered. If you choose to use different colored frames it is best to organize the frames by color, usually in rows. Also remember larger images should be balanced with the same size frame on the opposite side of the grouping.
Next align frames. Feel free to align the corners of the frames with the center of another frame so that one is underneath another for a more abstract feel. Use a ruler or tape measure to evenly space the frames on each side.
Trace Your Frames & Tape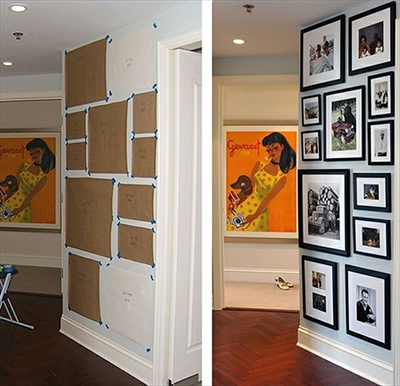 When you have the final positioning of the frames, trace around each frame on a piece of paper. Make sure to keep the paper in the same position the frame was in. Taking a picture of the layout might make it easier to remember.
Tape Paper Frames On The Wall
When all frames have been traced cut the paperto the size of the frame and start taping the frame sized pieces of paper on the desired wall exactly like it was organized on the floor. When finished you will be able to move the taped pieces of paper around to make some final touches and adjustments. Using a level and measuring tape you will want to make sure all the papers are level and have the same distance from each other on every side.
Hang Hardware & Picture Frames
Lastly line up where your hardware will be hanging from and make a mark on each piece of paper. Then mount your hangers on the wall with a hammer and nail. The paper can be removed from the wall once the hangers are all installed. Now you are able to hang your picture frames, step back and admire your new custom wall decor.
Reference: DIY and Craft Ideas
You Might Also be Interested in Our "Cutting A Photo Mat By Hand" Article.