Posted on 08, October, 2015
Last Modified on 13, October, 2015
Shop Products from This Guide
Artist easels are preferred by novice and master painters alike because of the functionality and flexibility they offer. These easels adjust to fit canvases of many sizes, tilt to provide comfortable painting positions, hold your canvases securely in place while you work, and even adjust from sitting to standing height! But with all this functionality often comes a little confusion. If you've ever wondered how to best set up your studio easel, then this article is for you!
How to Set Up an Art Easel
Good news! There's really no "right" or "wrong" way of setting up your easel. How you arrange your easel depends on your personal needs and preferences. Essentially, what matters most is that you feel comfortable while you work. Consider making the following key adjustments during setup to ensure that your easel is perfectly suited to you:
POSITION EASEL - Set up the easel in a spot where you will have an unobstructed view of the object or scene you're painting. You wouldn't want the bowl of fruit for your still life partially out of sight, would you?
ADJUST HEIGHT - Standing is always an option, but if you plan to be sitting, take a look at the height of your stool or chair, and then adjust either the legs and tray of the easel to a height that will be comfortable for you while you paint. There's no "right height" - just whatever fits you and your posture the best!
TILT ARM - Angle the canvas arm so that the easel sits in the position that will be most comfortable for you while you paint. The easel could sit anywhere from a 90 to a 45 degree angle, it's up to you!
MOVE CLAMPS - Move the clamp(s) on the canvas arm to fit the height of your canvas. Then rest the bottom of the canvas on the easel's support bar or bottom tray.
BRACE CANVAS - Use the clamps to fix the canvas in place. This will stop the canvas from shifting around while you're painting.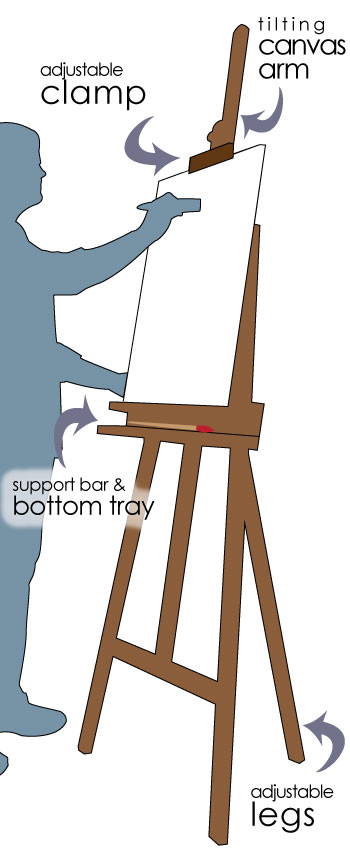 How to Set Up a French Easel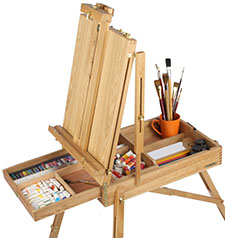 First, what is a French Easel?
Essentially, a French easel is a collapsible and portable artist easel that contains a sketch box for holding supplies. This style of art easel is great for painting outdoors and the artist on the go! Commonly referred to as plein air easels, these adaptive instruments allow artists of all mediums the opportunity to leave the studio to capture landscapes and cityscapes in natural light.
The process of setting up a French easel is a bit different from setting up a traditional studio easel because French easels are usually collapsible and feature thin legs that fold in for portability.
Start by loosening and extending the easel's legs. This can be tricky depending on where you are. If indoors, try laying the easel on a stool before extending the legs downward. If outdoors, lay the easel upside down and extend the legs upward before flipping over.
Adjust the height of the legs to a position that's comfortable for you, taking into account whether you'll be sitting or standing while you paint.
Once the legs have been extended and adjusted, ensure the supplies box is even and parallel to the ground. If you're outdoors on uneven ground, this may be easier said than done, so don't sweat it if you can't get the box perfectly aligned.
Next, raise the canvas arm up off of the sketch box, angling it to the desired position.
Adjust the clamps to fit the height of your canvas and rest the bottom of your canvas on the tray.
Gently clamp the canvas in place so it will not shift while you're painting.
VIOLA! You've set up and positioned your easel like a master! Happy painting!