Magazine Racks | Floor Stands, Tabletop Holders & Wall Mount Displays
Magazine Rack - Floor Standing & Wall Mount Holders
These magazine racks for home and business applications are used to display literature in any type of setting. According to Wikipedia.org, a magazine is defined as a collection of articles, published on a set schedule, and usually funded by corporate advertising, but the magazine has expanded far beyond its original definition. Magazine racks are used for displaying and organizing this style of literature and other periodicals. Of course, the display stands and holders can also be used with catalogs. These office, library, and home magazine racks are included in one of the largest online product lines available here. There is a wide range of holders avilable - something for every style, need, or budget, including the magazine stands shown above. Browse the selection today!
Retail Sales & Commercial Magazine Display Racks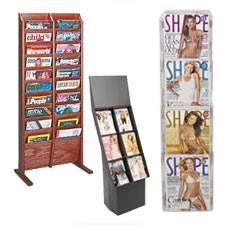 These contemporary magazine racks are great at increasing revenue for any business! Multi-pocket literature stands provide a basic means for users to display weekly or monthly publications, world news, journals, flyers, newspapers, books or periodicals. These hanging and floor display racks help to create an interest in impulse buying in areas that might otherwise be overlooked. Set one up at the cash register or entranceway to increase the likelihood that the periodicals will be seen. These magazine stands on this page are offered in a wide array of designs, shapes, and sizes. The units are available in wall mount and countertop styles for settings that do not have much floor space. Looking for a single stand to advertise all of periodicals available? There are also rotating stand models that allow customers to conveniently spin the unit for easy browsing.
Common Uses:
Literature displays are used to showcase magazines in a wide range of environments. These periodical racks are used in homes, offices, trade shows, libraries, book stores, convenience stores; the possibilities are endless! These literature displays are designed to help users get the most out of the printed advertisement campaign. These magazine holders keep all of the reading material organized and tidy. We offer countertop, wall mount, and desktop literature racks in many sizes and designs. Most magazine holders and hanging racks are designed for ease of accessibility and quality craftsmanship. These library magazine displays hold brochures, pamphlets, books, newspapers and other promotional literature.
One of the many alternatives to a floor standing magazine display is a mounted rack. This site features many different types of magazine holders. These literature pockets serve as a means to present all of the printed materials without requiring much room. When hung on walls, the magazines are shown at eye-level making it easier for patrons to see what you have to offer. Customers are more likely to take an interest in literature when it's at eye level, rather than having to bend over and dig through a disorganized pile of magazines on a tabletop, or stuffed in a pamphlet holder on the floor. The collection of mounted magazine files and boxes consists of attractive models that will fit the budget. We offer racks made

of wood, metal, acrylic, and wire. In addition there are also tiered racks and multi-pocket holders available.

This online catalog also features portable magazine stands. Pamphlet holders are a must-have for any trade show exhibitor who requires a display that is simple to set up, and take down, yet still looks nice and presents literature in an orderly fashion. Businesses that attend conventions usually set up magazine files to attract new clientele. Any traveling sales team can benefit from these models. Most of the portable stands offered here come with a carrying case, and fold down in just seconds.
About Displays2go
We offer a large variety of literature displays in this e-catalog. Buy in bulk for big savings! Shoppers can order pamphlet holders and browse through hundreds of other retail display fixtures here at Displays2go. If you value fast, low-cost shipping, this site is sure to meet or exceed your expectations. Most of the products available here qualify for same day shipping when purchased before 3PM EST, so you will receive your order within a couple days. With more than two million units in stock, this is the largest assortment of displays for sale online. Doing business since 1974, our engineers design most of the products for sale here; in addition we also offer 24 hour shipping on most in stock items ordered before 3PM EST (Mon-Fri). Browse through this online catalog to see the wide array of fixtures. We stand behind all of the items for sale here and continue to strive to provide the best online shopping experience. We are committed to providing a large selection of products, representatives with in-depth product knowledge, and outstanding customer service. Customers from all around the world order retail merchandising displays right here. Start shopping now and take advantage of all of these amazing deals.