Posted on 29, December, 2020
Last Modified on 25, August, 2023
Universal VESA Requirements Make Mounting Televisions, Monitors, and Audio Equipment a Breeze
So, you've acquired a new piece of technology to assist your day-to-day business functions and are looking for the best way to incorporate the device into your existing system. Thankfully, the Video Electronics Standards Association, a group of hundreds of the top electronics manufacturers, have banded together to design a universal Flat Display Mounting Interface, also known as the VESA Mounting Interface Standard, to create standards for mounting flat panel monitors, televisions, and other displays to stands or wall mounts. This agreement makes the vast majority of digital flat panel digital devices cross-compatible with mounts from varying brands or even with mounts originally intended to secure other systems. Most of us have worked with these types of brackets, either while setting up a monitor at work or even while installing the brand new 55" flat screen in your living room. For most, experience with VESA mounts begins and ends with large television screens. However, there are a plethora of other devices that can utilize this system including standing desks, computer monitors, and touchscreen tablets. Here, we will explore each of these options to shed light on how to best secure your digital devices.
For a detailed explanation on the Flat Display Mounting Interface and how to find the correct mount for your system, please review our VESA Mount Guide: What Is the VESA Standard article.
One Television Mount to Rule Them All
The VESA Mounting Interface Standard is most often used when securing flat screen televisions to the wall or floor stand. This is actually great news, as it means that one mount can universally support a wide range of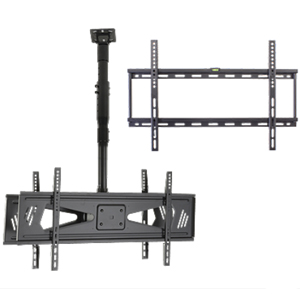 compatible systems, even if those are supplied by different vendors or brands. As such, the same mount will secure any number of screens that are used through the years to showcase your business or provide visual content. This is a great solution for locations that utilize televisions to share news, stream sporting events, schedules, and more. Places such as bars and restaurants burn through TVs at a faster rate, since their screens are left on for hours on end. Likewise, public venues such as airports or train terminals take advantage of flat screen televisions to deliver travel scheduling, entertainment, news, and weather information. VESA mounts for televisions make it easy to simply replace the screen without the need for new wall or floor standing hardware, saving money and hastening the replacement process. The VESA standard is especially useful for at-home use as well, making it simple for those who are not tech-savvy to install a new television with the assurance that they have the right tools to get the job done without a headache over specs and technicalities.
These are the Monitor Mounts You're Looking For
In any business, versatility is the name of the game. By taking advantage of VESA monitor stands, IT departments can easily swap out damaged or outdated computer screens while keeping installed counter or table top hardware in-tact. We see these most often used with articulating surface mounts in corporate office spaces,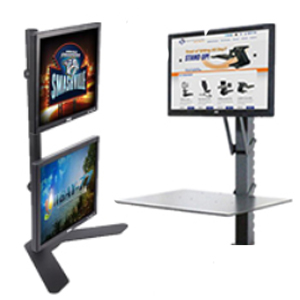 hospitals, reception desks, and any other location where a screen's position may need to be manipulated to share information more easily. VESA compatible brackets for desktop monitor stands include flexible arm mounts, adjustable sit/stand desks, and video wall systems. Digital systems tend to have many moving parts, especially desktop set-ups which rely heavily on frequent upgrades to keep up with ever-evolving graphic requirements. Because of this, computer monitors are often replaced, making a VESA compatible mount a stress-free way to accommodate these changes. For many, spending long hours seated can be taxing for their physical and mental health, making a sit-stand desk with articulating or adjustable arms a must-have for their office workspace. This type of hardware often requires VESA compatibility to secure their screen in place. For home use, these VESA monitor mounts are great for video streamers, content creators, and work from home employees, since they allow varying screen orientations to best present text feeds, chat logs, data, and other visual tools.
We're Gonna Make You a Tablet Mount You Can't Refuse
Touchscreen tablets go with many exhibitors and small business owners wherever they go, and are even a staple for traveling professionals alongside laptops or traditional notepads. VESA compatible iPad and tablet holders provide orators with the stability of a digital reference guide while speaking publicly, whether that be at a convention, university, or corporate boardroom. For others such as restaurants, farm stands, or traveling vendors, these countertop tablet mounts serve as a digital extension of their business, linking users to inventory systems, payment processors, product promotional videos, and more. A tablet alone can change the quality of any presentation, ensuring your employee comes prepared and has all of their notes handy, but an adjustable VESA tablet mount changes the dynamic by creating an informational hub from which to speak from. Many of these mounting options include adjustable bases, articulating arms, and dual-sided compatibility so relevant digital content can be shared or collected with ease.
Why VESA Compatible Mounts are the Right Fit for Your Business
The name of the game is flexibility, function, and of course, saving valuable time and money. Investing in new digital presentation tools such as tablets, televisions, and computer monitors can be expensive on anyone's budget, so avoiding the need to purchase additional mounting hardware can make things a little easier on the books over time. VESA compatible mounts make it easy to place digital content anywhere, whether that be a counter or tabletop, wall fixture, or even a sit/stand desk. Since the Video Electronics Standards Association created a set list of acceptable VESA dimensions, it is important to make sure that your device and the given mount are within the same range, thankfully, most are adjustable and can accommodate many VESA sizes. With that in mind, don't feel limited to only securing a television to a given mount. So long as the VESA specs align, you can utilize that hardware for any manner of devices with VESA compatibility including monitors and tablets.