Posted on 25, March, 2015
Last Modified on 24, April, 2023
You're here because you're ready to hang your brand new television, or maybe you're researching some ergonomic monitor mounts for your desk, and you've hit a snag; What does VESA mean? Is it important?
Put simply, VESA size tells you how far apart the mounting holes on your display are so that they line up exactly with the holes on a bracket or mount. Read on to learn how to find the correct VESA size for your hardware, some of the different ways manufacturers list VESA size, and why VESA standards are so important when finding a compatible bracket for your TV or monitor!
Already Know Your VESA Size? Shop These Mounts:
How to Read VESA Sizes
VESA sizes are industry standard patterns for the mounting holes on the back of monitors and televisions that ensure compatibility across different brands and manufacturers. The same standard is used for mounts and brackets.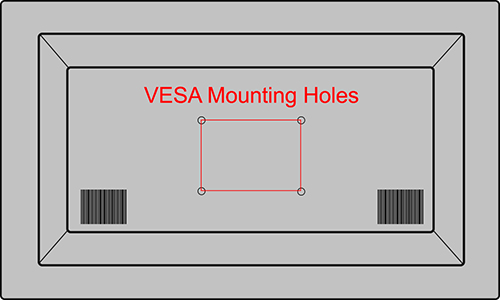 Of course, it can be hard to know what those numbers mean and how to read them at first glance, so let's break it down.
When searching for a bracket, you'll see VESA expressed a few different ways:
VESA Pattern Compatibility: 100 x 100
VESA Size 100x100
VESA Pattern: 100mm x 100mm
VESA Hole Pattern: 100 x 100mm
All of these mean the exact same thing. As long as it says VESA, it doesn't matter what other text accompanies it. The only part you need to pay attention to is the numbers.
So what do the numbers mean? The numbers in a VESA pattern are two simple measurements that tell you the distance between the mounting holes, always horizontal first, vertical second.
In our examples above, the TV in question would have four holes set in a square pattern, 100 millimeters apart both horizontally and vertically.
Even if the particular packaging, website, or product description doesn't say so, VESA is always expressed in millimeters.
Square patterns are common (where both measurements are exactly the same) but you might come across rectangular patterns which look like this: VESA 600 x 400. Just remember that horizontal comes first and you can figure out that these holes are 600mm apart horizontally and 400mm apart vertically.
Uncommon Standards and References
You might come across the term FDMI or VESA FDMI. Remember that FDMI and VESA signify the same measurement for consumers. FDMI stands for Flat Display Mounting Interface, and VESA stands for Video Electronics Standards Association, the group that introduced the standard. It's simply another way to refer to the horizontal and vertical measurements (in mm) between bracket holes.
A little more complicated are VESA-MIS classifications. MIS stands for Mounting Interface Standard and it refers to a group of mounting patterns that use a letter-based naming scheme rather than simply expressing the measurements.
You can find the full list of classifications easily online, but the most common are MIS-D, MIS-E, and MIS-F.
The actual distances between the holes can vary even within the same classification. For example, a MIS-D monitor could have a pattern of 75 x 75 or 100 x 100. A MIS-E monitor could have either a square or rectangular pattern, 200 x 100 or 200 x 200. MIS-F covers a very broad range of sizes.
That's why it's always best to measure the mounting holes yourself instead of relying on the MIS classification for compatibility.
How to Measure VESA Size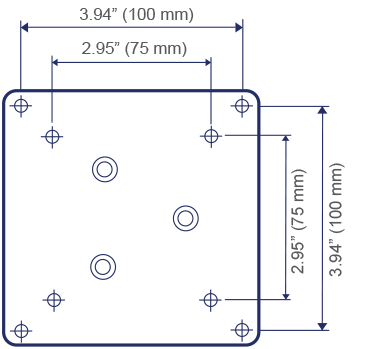 Locate the threaded holes on the back of your TV or monitor. Generally, these will be in the center of the panel.
Using a flat ruler or measuring tape, measure the distance between the top left and top right holes (horizontally). Measure to and from the centers of the threaded holes for accuracy. Write down this measurement in millimeters.
Then measure the distance between the top left and bottom left holes (vertically). Again, from center to center. Write down this measurement in millimeters.
Now you have your VESA size!
Note: Sometimes you might find more than four mounting holes. That's okay! It just means that the item you're looking at is compatible with multiple VESA patterns. Measure each set individually to get a full compatibility list.
How to Find the Right Bracket or Mount
Now that you know what VESA size you need, you can find a bracket that fits it. Some brackets and mounts will be compatible with only one or two VESA sizes, while others will fit a wide variety of different mounting patterns. As long as you match it up exactly with what you just measured, you'll find a compatible piece of hardware.
Use the links at the top of this page to see our mounts by VESA compatibility.
Alternatively, check out our entire selection, then sort by the VESA size that fits your TV! We have a huge selection of wall and ceiling mounts, floor standing units, and even media centers with shelves!