Computer Monitor Mounts for Office Desktops
---
Computer Monitor Stands for Multi-Screen Tabletop Mounting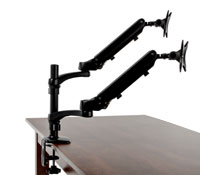 Are you looking for a better way to organize a congested desktop at your workplace cubicle or home office? Our tabletop computer monitor mounts are designed specifically to promote productivity in collaborative work environments. The stylish design of these countertop LCD display stands make them appealing not only for professional businesses as well as residential settings. Single and dual tabletop computer monitor mounts are often seen in conference rooms and at office cubicles, where LCD monitors or LED televisions need to be placed at eye-level. Desktop screen mounting arms and countertop TV brackets allow you to raise your computer up as well as tilt or rotate it for easier collaboration. Some tabletop computer monitor mounts can also be adjusted so that the screen orientation is horizontal or vertical. These features allow users full control of the viewing height, orientation, and angle of the monitor.
What are the advantages of using desktop screen brackets?
Tabletop computer monitor mounts are extremely versatile and can be used by any hobbyist or professional. Graphic designer firms, web development departments, accounting offices, and other computer-based professions are great applications for the countertop monitor displays.
The unique design of each of these computer monitor mounts is able to attach to any existing surface, such as a work desk or other counter. Both temporary clamp and permanent grommet bases are available, so the user can decide which setup is best for their tasks.
Many of the computer monitor mounts also offer some type of adjustability, whether it is raising and lowering the height, panning from side to side, tilting up and down, or even rotating from portrait to landscape orientation. The wide range of motion is perfect for setting up a comfortable and effective workstation.
Some of the computer monitor mounts for desktop use, including our popular dual screen stands, allow you to display up to six panels at once. With these types of displays, multitasking has never been easier. Improve productivity by running multiple programs at once or having emails, spreadsheets, and word documents all accessible in one place. Many popular monitor mounts do much more than hold a screen and can feature laptop or keyboard trays. Side-by-side monitor mounts are great for collaboration whilst comparing notes and tilt or rotate to share information with ease. In addition to countertop television mounts, our selection of commercial television stands includes ceiling mounts, thin profile mounting kits, & more.