Wood Chalkboard Menu Boards Features an A-Frame Design
---
Wooden A-Frame Menu Boards - Liquid & Stick Chalkboards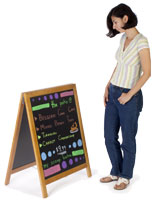 This chalkboard menu board that has a write-on surface is the ideal accessory for your restaurant, bar or on the sidewalk in front of your store. Advertise your specials for favorite foods, beverages or other products & services. These a-frame blackboard displays are available in several frame styles and can be ordered with chalkboard, dry erase, or wet erase writing surfaces. Do you need a menu board that can be placed outdoors? All of these restaurant chalkboard sidewalk signs can be used outside in ideal weather conditions. Although this restaurant sidewalk sign is typically placed on a curb, retail store owners also use these chalkboard signs to promote sales and other happenings. The design of this a-frame sign makes it easy to change out graphics and messages. Many of the menu board signs shown here are intended for use with a wet erase marker. To create a new advertisement for, simply take a damp cloth and wipe off the old graphics, let dry, and the menuboard is now ready for a new display. Some menu board a-frames feature a traditional chalkboard that must be used with standard chalks. Lastly, there are a few chalkboard menu sidewalk signs available here that have a dry erase surface. Regardless of the menu board that is chosen, shoppers are guaranteed to receive a quality display that will help to create interest in their institution.
Are these chalkboard menu boards that have an a-frame design suitable for outdoor use?
These sidewalk sign displays feature a wood frame that can be used outside in fair weather conditions.
As with any write-on menu boards these restaurant chalkboards should be brought inside during rain, wind or snow storms.
Some of these sign displays for sidewalks feature a clear coat finish that helps to protect the wood from fading due to sun exposure.
This selection of curb signage is exceptionally portable and easy to set up and take down. On average, this menu board which has an a-frame shape weighs approximately 20-30 lbs. The relative light weight allows for one person to be able to relocate the signage if necessary. Likewise this ideal weight keeps the unit upright and less likely to topple over in comparison to a similar plastic sign display. All of the menu board signage shown here is made with quality materials with various wood finishes. Choose from maple, cherry, walnut or black stains. There is also a wide selection of menu board for restaurants that features a separate header area. This smaller write-on area can be used to display the name of the restaurant or bar, or to announce store hours. The majority of the chalkboard menu board signage also has some type of locking hinge or stabilizer that keeps the unit in the correct position. To set up the café sidewalk sign, simply pull the two sides apart, and lock the hinge or stabilizer bar in place. It's that simple.
Can these write-on menu boards be used with any type of marker or chalk?
The optimal writing utensil is clearly stated for each of these a-frame signs on the individual product pages.
Most of these menu boards for restaurants can be used in conjunction with wet-erase or liquid chalk markers.
There are a select few write-on a-frame sign displays that feature a dry erase board, as well as others that have a traditional chalkboard surface. Shoppers should carefully read the product details page prior to making any purchases.
There are some new menu boards for restaurants that have currently been added that feature a wet erase surface on one side and a dry erase writing surface on the other. This versatile curb signage is ideal for graphics and other announcements. These menu boards with wood framing have an upper and lower pivot point that allows just the writing surface to be rotated. There are two different wood finishes offered; cherry and black. Just like the other menu blackboards mentioned above, these sign displays have two locking side hinges to maintain stability. These menuboards are commonly used by bars, cafés and retail stores to display enticing graphics or promotional messages. These menu boards are perfect for businesses that change out signage frequently. Due to the design of these pavement signs, they should only be used indoors. Buy these chalkboard signs and other restaurant supplies here today!