Restaurant Menu Boards - Write-On Commercial Displays
---
Display Boards with Writing Surfaces for Restaurants, Cafés and Bars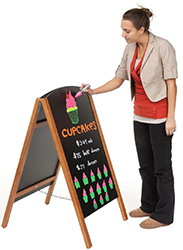 Need high visibility signage to inform customers about your selection? Our restaurant menu boards are easy to use and provide a creative, yet economical way of featuring food and drink items. This type of bistro sign helps business owners advertise their cuisine in a prominent position, whether it's on mounted at the entrance or behind the service counter. What makes bar and restaurant menu boards great is that they provide patrons with information they want to know, such as food and drink listings, specials, sales and upcoming events. Each of the sign displays featured in this category has a versatile design that's made for any industry and any environment. These restaurant menu boards can be used by several types of dining institutions, from fast food joints to 5-star eateries. Café signage like this is a must-have for delis, cafeterias, restaurants and bakeries.
What makes these promotional signs excellent for the food industry?
Our selection of restaurant menu boards features writing surfaces like chalkboards and markerboards for easy personalization. Their simple "write on/wipe off" design makes changing messages a breeze. While liquid chalk and wet erase markers are sold separately, they also benefit from quick shipping and bulk pricing.
This bar and restaurant signage is offered in a number of placement options to accommodate any business's needs. Floor standing frames are great for getting the most promotional space with their double sided design. Wall mounted units are excellent for capturing patrons' attention; they're hard to miss when placed at eye level. Tabletop stands are better for businesses with service counters like delis and cafés, but they can also find use when there is little available floor space.
While the menu boards feature your custom written messages, we offer both indoor and outdoor models to accommodate any location. Signs with a clear lens will protect writing from inclement weather while reducing glare from natural light.
Menu boards, also called café display signs, are available in many different styles to suit the needs of any establishment or budget. These products feature a textured writing surface, designed for use with liquid chalk utensils and wet-erase markers, as well as traditional stick chalk. This is excellent for locations that make frequent sign changes. Messages wipe clean with the use of a damp cloth for quick re-use. With a number of construction choices, the wood frame of these restaurant menu boards makes them perfect for placement in a variety of food service locations.
While all of these models feature a markerboard or chalkboard, they come in different shapes and sizes. One of our most popular menu board styles is the A-frame that features a double sided design pointed at eye level. Our selection includes three different fabrications: metal, wood and plastic. Restaurant owners can use the A-frame signs indoors as well as outdoors, to display food and drink listings along with specials. Bring potential customers in by placing one of these high visibility frames out in front. These boards are ideal for busy dining institutions, where patrons have to wait to be seated. While waiting, diners can peruse the displayed specials. A-frames, when not in use, can easily be folded and stored making them a valuable asset to any location. In addition, we offer classic changeable letter boards that make for easy-to-read food item displays. These wall mounts come with hundreds of characters for creating a simple, yet effective promotional sign for restaurants.
How can these write-on frames be used the most effectively?
Use an enticing title to capture the attention of passersby. "SALE!" and "Specials" will bring in customers that are looking for an opportunity, whether it's dinner or a deal.
Make the message stand out from the rest. Promote your business with a number of fun, bright colors like the ones in our marker and liquid chalk packs. Vibrant drawings such as flowers, alcoholic beverages and food items can increase brand awareness while fitting the theme of the location.
The sign frames are ideal for advertising upcoming and daily events. Tell guests you're hosting bar trivia nights, couples nights and or about specials during football games. Give customers more incentive to return with fun attractions around the corner!
We also offer bright LED boards that illuminate personalized messaging, attracting passersby more effectively than standard signage. Featuring edge lighting, they give messages and drawings a balanced illumination while increasing their visibility over conventional writing. These LED frames also come with animation options such as flashing lights and color-changing patterns that are hard to ignore. This style of promotional display is sold in a number of placement options including A-frames, easels, countertop stands, wall mounts and even window-hanging fixtures. Our catalog benefits from fast shipping and wholesale pricing for quick and convenient service.