Bakery Stands | Showcase Bread and Pastries
---
Bakery Stands with Removable Shelves for Multiple Storage Layers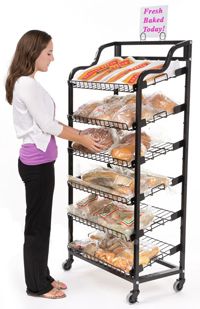 These bakery stands are an optimal way to display your products. This metal bread stand is a great choice for both corporate and residential use. This bakery stand, also known as a metal stand, has open areas and can be used to showcase almost anything. No longer worry about whether goods can fit on the display surface. You can use a bakery stand for business purposes or decoration and storage within your home. Some of these displays can also be used as retail wine stands and feature an uncomplicated and modernized design, allowing this stand to complement any decor. Constructed from rugged, black-coated wire, this bakery stand can last through years of use.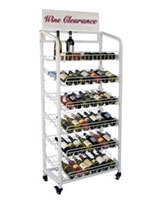 This bakery stand is commonly seen in places like restaurants, bakeries, retailers and even in homes. The versatility of this unit is one of its biggest selling points. This metal bakery stand and other bakers racks are the most effective and affordable way to display your most valuable merchandise and the lightweight design makes it easy to position anywhere. These stands occupy less floor space, while still keeping your products sorted neatly on the racks. Metal and wood styles also provide an elegant and sturdy way to store items. The metal display gives restaurant employees more room to move while making food. We sell bakery stands in many different designs, sizes and finishes as well. Accessorize your racks with different side baskets.Tall bins are often used to display baguettes and french bread, while the smaller baskets are used for individual loaves. Options range in height from 53" to 6 feet tall. Some have an attachable sign space for a customizable header. The 26" wide sign space is perfect for custom messages in restaurants or wine shops. This bakery stand showcases your products in style! Tailor unique advertising to your own products.
There are some unique qualities to these stands that make them really versatile and effective food marketing displays. The locking casters make bakers' racks easy to maneuver while still being able to be put securely in place. The shelves on some of these displays feature an adjustable angle option so bread, wine or other items can be displayed flat or at an upward tilted angle.
At Displays2go, we provide these stands and a large product selection to better meet the needs of our customers. We have been producing and supplying advertising products for years. In addition to these restaurant supplies, we also supply other displays for trade shows, restaurants, hotels, schools, individual companies and homes. In addition, if you place your order before 3PM, we will ship the products to you on the same day. How is this possible? The three on site warehouses are integrated with online sales to cut down on lead times. There are up to the minute live inventory checks to assure units are in stock. To check if an item is in stock, simply look at the counter on each item page. If the number is greater than zero, then the item is here. Be sure to check back frequently to see all of the new additions to the online collection. There are currently over 7,000 different displays and counting. New units are constantly being launched here. Any questions about these numerous items can be directed to the consumer service representatives. Consumer support is available during normal business hours from Monday through Friday. Contact them via phone or live chat. Choose Displays2go for all of your display racks & other advertising products.