TV Wall Mounts - Flat Panel Brackets for Home or Corporate Offices
---
Be sure to verify your monitor is VESA COMPATIBLE
Wall TV Mounts - Fixed & Full Motion Mounting Brackets for Flat Screens

TV wall mounts and hangers are ideal for use at home or select businesses like bars, restaurants, and airport lounges. There is a large assortment of flat panel brackets available, which includes many different styles including full motion extandable arms. What types of TV wall mounts are offered here? The list of brackets for sale ranges from stationary & fixed to tilting & articulating. There are also low profile and specialty vertical designs to choose from. TV wall mounts, sometimes called wall TV brackets, securely hold your LCD television on a mounting surface for a great looking display that keeps floors clear! We also carry a selection of articulating mounted brackets that allow for hanging a television from the overhead as well as some desktop and tabletop solutions. Some of these flat panel full motion LCD mounts feature plastic clips to hold wires in place to prevent a tangled mess behind a flat screen television while others offer full motion and adjustability. No matter which TV hanger is selected, the customer can rest assured that all of these extendable brackets are VESA compatible. VESA guidelines were established when bracket and television manufacturers met up to standardize mounting holes on the back of flat panel televisions. Though all necessary hardware to mount most televisions is included with each purchase, some will require specific screws that can be bought at your local hardware store. All of these LCD TV mounts are fairly simple to install with one person, however an assistant is recommended when mounting the actual flat screen. If you're wondering how to install the brackets, take at look at downloads section on each product page.
Can I search for a wall TV bracket by the flat screen LCD television's make and model, such as Samsung, Panasonic or Sony?
Our TV wall mounts for businesses and homes are designed to be compatible with most television brands. VESA, or the Video Electronics Standards Association, set specific guidelines for TV and bracket manufacturers to ensure that flat screens fit properly.
We offer a VESA reference page that helps customers search by the type of monitor they have.
Each TV mount for sale here lists the size VESA bracket that is included with the purchase, so shoppers know if their monitor will work.
For further questions please contact one of the customer service specialists. They'll be happy to assist you with specific inqueries.

Many of our wall TV brackets are adjustable and will fit a wide variety of flat screen televisions from brands like Samsung, LG, Sony, and many other manufacturers. The full-motion racks extend out from the wall so the user can display a flat panel television the best way possible in a business or home. Most of these TV mounts can also swivel or tilt flat screen televisions for even more options for displaying an LCD TV. There is also a wide selection of tilting flat panel brackets that allow the viewer to reposition the monitor without having to remove the television from the hanger bracket. These adjustable brackets and mounts allow businesses, especially bars and restaurants, the convenience of tilting the television at the request of patrons. Our articulating flat screen holders are similar to these tilting brackets. Instead of just tilting, these displays are even more adjustable and provide panning as well as extending capabilities. There is a wide variety of sizes available among these articulating brackets that can hold flat panel televisions ranging in size from 10" to 65"+. There are also stationary, fixed units and low profile models available when full motion is not required. These LCD brackets have a simple design, yet are durable and long lasting. The low profile mounts enable users to hang an LCD television that protrudes only a couple of inches away from the mounting surface. Make your business stand out from the competition by installing a projecting bracket for your or LED monitor.
---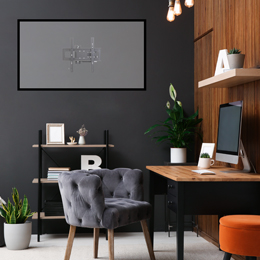 Television Mounting Solutions for Retail, Corporate and Home Offices
With social distancing guidelines in full effect, we are seeing more and more brick-and-mortar locations utilizing digital signage, including mounted television screens, to convey vital public health information to their customers. These options are a top-choice because they offer a contactless solution while updating digital media. We provide businesses with secure, low-profile mounting tools to get their TV's and signs affixed to any wall and ready to deliver impactful promotional or sanitization reminder messages to customers in their store.
Many corporate offices have adopted the use of video conference calls to collaborate between teams, making a stable and reliable television mounting system an essential fixture in any meeting room. Simply set up your TV on any of our fixtures, or browse our selection, and share full-screen powerpoints, view spreadsheets, and communicate with your employees more effectively. We have also noticed a significant spike in at-home workstations taking advantage of wall mounted TV stands as a supplement to their existing desktop display. Productive workers are utilizing multi-screen monitor setups backset with a mounted television displaying data, company news, graphics, or anything else an employee might need as a quick-reference.
---
This VESA bracket is offered as a simple and convenient way to display a flat panel television in your home or business. The newest mount added to the collection is the universal display. A universal LCD bracket is versatile and allows users the convenience of mounting a plasma monitor either vertically or horizontally. The unit shown above can hold a flat screen television weighing up to 165 lbs. Additionally, the television bracket can accommodate a monitor ranging in size from 23" to 63". There are also mounted displays that feature sliding designs, which adjust to fit the different sized flat panel monitors. In fact, this particular plasma bracket is compatible with six different VESA sizes. More and more businesses are looking for a television mount that displays a flat screen in the vertical orientation. The universal brackets are special in that they can be mounted in the portrait or landscape position. No matter what the need or setting, customers are sure to find the right flat screen mounting solution.
Are there any weight restrictions for these TV brackets and mounts?
When it comes to how to mount the equipment, there are a few things to take into account. Each of the monitor and television displays offered here has weight limitations for the LCD. All of the item-specific information is listed on the product page, so delve in for more details about restrictions and installation.
TV mounts that come with a specific VESA bracket size can hold a standard size monitor within a weight range.
Another important factor to consider when mounting a television is the type of material the wall is made of. TV hangers can be especially tricky if it's your first time installing one. If you are inexperienced with mount installation, consult a professional contractor to ensure proper and safe fastening.
In addition to this flat screen hardware there are many other product lines available! For instance, we provide retail display cases, menu stands, poster frames, and other store fixtures. Our company has been designing and manufacturing point of purchase displays for over forty years. What began as one man's side job out of his garage has become a sprawling E-commerce business with millions of in-stock units. Our expertise in sourcing, purchasing, and manufacturing products is largely responsible for our competitive price points. Wholesale cost is available to customers, which is very helpful considering the current state of the economy and the fact that now more than ever companies are looking for the best value for their dollar. Get the most out of your limited budget and shop with experts at Displays2go today!