Portable TV Racks - Floor Standing Screen Mounts with Folding Design
---
TV Display Racks with Portable Frame and Carrying Bag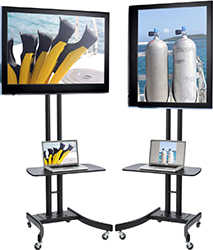 Want to bring your flat panel to events with ease? These portable TV racks are made for transport, featuring foldable designs and included carrying bags. Whether you're bringing a digital display to a trade show, a wedding banquet, or a company exercise, it won't be a hassle. Portable TV racks, or movable flat screen stands, are perfect for commercial events because they let exhibitors attract passersby with dynamic moving advertisements and ear-catching audio. No trade show booth is complete without a showcase of your company's products and services. Why not use a portable TV rack to present your image with your personalize programming, giving onlookers the message you want them to see?
What types of movable flat screen stands do we offer?
Our truss style portable TV racks are among our most popular displays because they feature a sturdy, yet transportable frame. This style of fixture has a framework of contracting aluminum rods that are folded up into a fraction of its full size when you're ready to travel. The floor standing monitor holders' truss design is has a modern appearance that will go great with any trade show exhibit or conference room presentation. Find a number of units in this style with features like multiple panel mounts and shelves for devices.
We also offer TV racks with a more traditional design that are made with interlocking pipes. This style benefits from featuring more compatible accessories like rolling casters, adjustable monitor brackets, and even locking cabinets. Movable flat screen stands with wheels are an great because they can move easily after they're set up. Use an adjustable screen bracket to tilt or rotate your display at the optimal angle and keep valuable materials on hand in a locking storage area! There's so much you can do with these displays!
Movable flat screen stands with an electric lift are the pinnacle of convenience. These fixtures are sturdy travel cases that you directly mount your monitor on. Using the automatic electric lift, you can easily hide your television on the inside the heavy duty container and bring it out with the push of a button! This style is great for going from "travel" to "presentation" with as little effort as possible and comes with a remote control, power cord, and adhesive tilt indicator.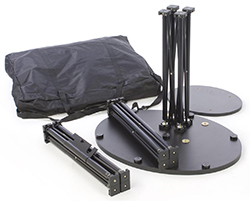 Traveling to events like trade shows and commercial expos can be tough, but our monitor holders will make it easier. Truss fixtures include a canvas bag with a zipper while units with a pipe frame come with a wheeled case. No matter what model you order, assembly can be completed in under 10 minutes by one person! Our entire catalog includes all the necessary instructions and hardware are included so you'll always have what you need, when you need it.
All of these displays have standard VESA holes to accommodate most flat screens. For more information about this common mounting system, read our article on VESA sizes. These sturdy flat panel floor stands also benefit from quick shipping and wholesale pricing. Browse 1000s of products on Displays2go.com!