Trade Show Counters | Multiple Style & Color Options to Enhance a Display
---
Trade Show Counters - Providing Exposure & Flexibility at Events or Conventions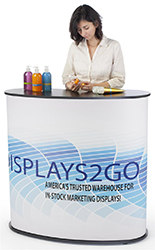 What makes trade show counters different from standard folding tables or other display fixtures? These portable pedestals are made for convention use, and make traveling to these events easy. Trade show counters are sold in a variety of sizes, and can be used in groups or as individual showcasing accessories. Exhibit kiosks provide more flexibility when it comes to designing a presentation. Trade show counters make excellent focal points within an exhibit or simply platforms to complement a display.
How can portable podiums be used at a convention booth?
Trade show counters are often used to distribute literature like pamphlets or promotional spec sheets
Feature an engaging game, such as a prize wheel or a raffle drum. This is very effective while promoting your product or service to your audience.
Supply refreshments to guests while promoting your brand.
Showcasing pedestals allow interaction with potential clients in a focused and equalizing setting. This will result in a more positive experience for both parties.
Conduct business transactions and make sales.
Portable kiosks give users the ability to connect with clients on a personal level. Our pop-up podiums help create a more open environment. This allows users to be more approachable to exhibitors. Not only can the kiosks showcase products, but they also work well as checkout stands. Why not transform an exhibit podium into a point of sale? The kiosks are at the perfect height for signing paperwork while keeping interaction casual and friendly.
What are the benefits of adding pedestals to an event booth?
These portable counters take up little space, but have large surface areas.
The knockdown design makes transporting your supplies easy and convenient. The set up and breakdown is simple as well.
Fabric attachments add bright color to a presentation without overwhelming or distracting onlookers.
Our various available styles and colors make them perfect for any setting.
Some models include literature holder and iPad holder attachments for added functionality.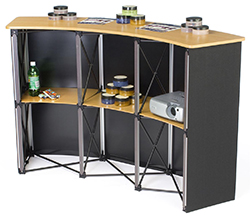 Our convention podiums are available in many colors, and have a variety of design options. Whether it's your first time attending a convention, or you're a seasoned vet - we have something that will fit your needs. These designs include round, quadrilateral and bullet. The oval shaped pedestals are great for communicating with a larger audience. The circular design makes it easier for a group to gather around a central location. The rectangular shaped models have the ability to stand alone or within a group. Putting the models together gives the option of creating large-size booth fixtures. The bullet-style models have a larger space to sort out papers and tabletops. Some of our portable display fixtures are customizable with their own graphics. This can include wrap-around attachments, stretch covers, or artwork that slides in the fixture. Our pedestals are equipped with nylon material in four color options. These include jet black, ruby red, sapphire blue & silver. This adds a pop of color and a striking element to any presentation. We also carry podiums with graphic and literature attachment options. These are ideal for conference centers, auditoriums, or classrooms.
To be successful in a convention or event setting, you must make your booth stand out. Our portable podiums, as well as our other convention necessities improve the effectiveness of a marketing campaign. Not only will this make a presentation more memorable, but it will also give users the ability to create eye-catching exhibits. Convention participants are separating themselves from the standard table and chair setups. If ordered by 2pm EST, Displays2go will also ship most purchases the same day!