iPad and Tablet Wall Mounts for Retail Displays, Multimedia Content, and Advertising
---
Wall-Mounted Enclosures For iPads and Tablets For Multimedia Advertising and Customer Engagement
Are you looking for an interactive display that uses your existing device? Our iPad and tablet wall mounts make great POS systems and information hubs for a variety of industries. Whether you want to give your customers a way to browse special-order and custom-built items or just set up an autoplay advertising station that's easy to update, these semi-permanent fixtures are designed to work with your device for a quick and painless setup. iPad and tablet wall mounts can act as cash registers in retail stores where either employees or customers can use them. Restaurants often use touch screens to feature their menu for patrons waiting at the front or to send digital tickets to the kitchen to avoid paper slips. Use our secure iPad and tablet wall mounts to feature promotional material, whether it's a digital catalog or a presentation of your company's services.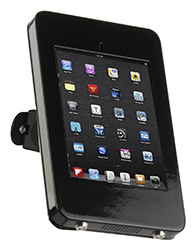 What features make these touch screen brackets great for commercial use?
Our selection of iPad and tablet wall mounts features secure locks to prevent theft and tampering in public places.
Each bracket is made of strong materials, such as aluminum, steel, and acrylic, for long-lasting use.
We offer tablet mounts in a number of modern finishes such as silver, black, and white to match your device and your décor.
These touch screen holders often come with an adjustable bracket to face any angle by tilting and rotating. Units with an extendable arm can reach out from the wall they're mounted on.
Our universal screen displays can feature a number of device brands and sizes using an adjustable enclosure.
Many of our tablet mounts include button covers to prevent customers from navigating to the home screen and unauthorized apps.
How can these iPad displays help your business? Mount a number of these fixtures on the wall of your store to to provide your patrons with an information hub where they can browse your merchandise and services. With secure locking enclosures, shop owners can feel safe using their valuable touch screens as promotional tools. Many models are made to accommodate card readers, like the ones made by Square and PayPal, to create a complete and intuitive point-of-sale system. Enclosures with a home button cover are best when allowing customers to process their own purchases because they prevent navigation into other apps.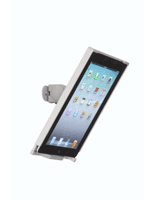 Restaurants often make great use of these iPad kiosks to assist their business. Touch screens are ideal for featuring ever-changing menus and wine lists in a place where patrons can easily see them. Utilizing their full interactive potential, restaurants can set up ordering systems for waiting customers. Alternatively, hosts can use iPads to manage seating. As with stores, these displays are excellent for handling transactions in locations like bakeries and cafés. For even more uses, read our article about tablets and their commercial applications.
Our iPad mounts are available in a number of sizes to fit any Apple® model. This includes Mini, Air 1 & 2, and Pro (both 9.7" and 12.9"). In addition, our line of universal displays can accommodate devices from other manufacturers such as Samsung, Amazon, and Lenovo. With an adjustable enclosure, the cases can typically fit screens measuring between 7" and 11" inches. Check each product's specifications to make sure your electronic display is supported.