Posted on 06, August, 2015
Last Modified on 28, February, 2023
iPads and tablets aren't just nifty gadgets for gaming or lounging on the couch. In today's connected world, these devices can be used in businesses of all sizes as tools for efficiency, customer care, and savings. In this article, we've compiled the 10 most effective uses for tablet technology in business. Read on to see if one of these applications can benefit your business life.
1. POS Systems & Cash Register Alternatives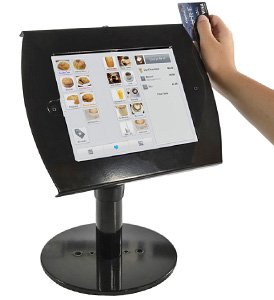 Pair your iPad with a card reader and the right app and - voila! - you have a point of sale system! This is one of the most common uses of tablets in business. Have you ever been in line for a coffee when the barista suddenly flipped their register screen around for you to sign and tip right there on the screen? This convenient process has businesses everywhere thinking "why purchase an expensive cash register or software system when an iPad can do the job?" POS iPad apps don't just allow customers to pay for items - many of them, like ShopKeep and Square, even offer inventory and sales tracking features.
2. Interactive Menus & Ordering
iPads are great for displaying ever-changing restaurant menus and wine lists. Place these touch screen devices on bars and tables for your guests to peruse the selection at their leisure. You can use a menu of your own design or try a handy app like eMenu Pro. To kick it up a notch, restaurants can also use more advanced tablet software that will allow customers to place orders right from their tables. Larger restaurant chains like Chili's and Applebee's have moved toward this style of ordering recently, installing touch screen kiosks at many of their tables. Just think - no more waiting for the server to come and take your drink order! Whenever diners are ready, they can place their orders right through the tablet kiosk. The added order efficiency can increase table turnover for restaurants, making for more profitable evenings - and the reduced wait times for diners will keep them coming back for more.
3. Photo Booths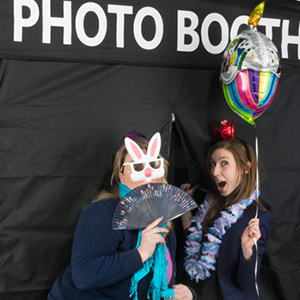 This is probably one of the most fun uses for an iPad at a business event. Simply pair your tablet and a floor standing tablet holder with a creative backdrop and a photo booth app (PocketBooth is a good one) and you're ready to go! No need to purchase an expensive booth with built-in camera and printer, or rent one for an exorbitant fee. Some apps will even let users post the pictures right to Facebook or Twitter, but you can also connect your tablet to a wireless printer to leave party guests with a souvenir!
To get an idea of how this would look, check out this video of a DIY photo booth being assembled and put to use!
4. Digital Signage
Digital signage is dynamic, attention-getting, and easy to change up. You can easily use the iPad you already have to serve as digital signage, rather than purchasing a brand new system. Pair your tablet with a wall mount or countertop holder to complete the effect!
Another option is large format digital signage with a touchscreen panel. These floor standing electronic posters are like giant Android tablets with speakers, wireless connectivity, and strong tempered glass screens. Grab the attention of passersby and give them an interactive catalog, map, or menu to browse. To learn more about how great digital signage is for business, check out this article!
5. Dual Screens at Your Desk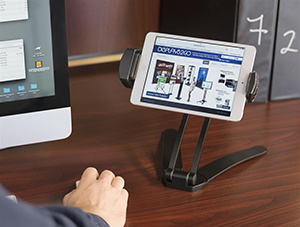 Keep your tablet by your desktop monitor for an added screen! Increase efficiency by displaying your touchscreen on your desk for easy access. Why not use two screens at your workstation, one for communication and another for your primary focus. There are even apps that can turn your iPad into a second monitor!
6. Presentation Aids
Visual aids in a sales presentation or pitch can be incredibly effective, but even more so when done with the help of a tablet. Easily show slideshows, models, graphs, or charts using an iPad as a presentation tool. For visual learners, this style of presentation can be extremely effective for increasing comprehension and retention of information.
7. Inventory Management
Tablets can be amazingly convenient for tracking inventory in a small business where a comprehensive inventory management system may be both out of reach and unnecessary. By using an app like Inventory Now to keep records of your inventory, you'll likely see more accurate accounting and sales data, along with the need for fewer manual inventory audits.
8. Video Conferencing
Have you ever read a work-related email from a colleague and just wished you knew what tone they were "speaking" in? Or been thrown off on a conference call because you
couldn't read someone's facial queues? Video conferencing with Skype or FaceTime takes the guesswork out of business communication. So, why not use iPads and tablets in your office to have face-to-face meetings anywhere?! Participants will be able to read others' tone and expressions, and will be able to cover a lot more ground than if using email.
9. Email Signups
Building a solid email list is an important part of lead generation for any business. Establishments in all industries could benefit from an iPad kiosk in a centrally located area of their store/restaurant/office to spur email signups. Pair the kiosk with custom signage to get customers' attention, or use an incentive system to persuade them to sign up. A 15% in-store discount offered after an email signup will not only build your business's email list but also provide an incentive for customers to actually make a purchase when they might not have before. We all know that it's hard to ignore a discount...
10. Customer Self-Service
Tablets can be used as an all-encompassing customer service tool for a business, designed to supplement existing employee efforts. If a customer needs other clothing sizes, wants more information about a complicated product, or even wants to scroll through the full list of a product's specifications, they can do so at their leisure without having to find a sales representative. Businesses can place tablet kiosks containing FAQ's and other important product information in convenient locations around their stores so that customers are never left without info or help. Plus, an informed shopper will usually feel more comfortable about buying on the spot!
The Future of Tablets in Business
We've covered some of the most popular uses for tablets in business today - but in this ever-advancing technological age, what can we expect of tablets in stores in the future? These are a few in-store touch screen innovations in the works:
"Smart" mirrors in dressing rooms
Takes video of customers in different outfits for side-by-side comparisons
Customers can see how they look in an outfit without even trying it on
Touchscreen areas to flip through entire store's product collection
Tablets Attached to Shopping Carts
Ability to find nutritional info & recipes
Can check items off virtual shopping lists
Receive targeted ads or coupons based on the location of a shopper in the store
Which tablet use would you most like to try out in your business?