iPad Arms Offer Secure and Flexible Positioning of Tablets
---
Adjustable iPad Mounts and Holders for Retail Counters or Desktops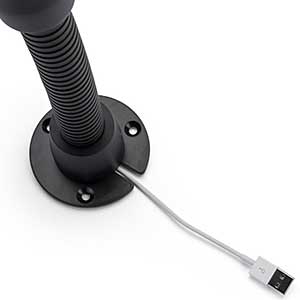 Looking to secure tablets to a tabletop surface but still need freedom of movement? iPad arms offer convenient adjustability designed to extend the range of your touchscreen device. Once clamped or mounted to a desk or counter, tablets can adjust to a comfortable viewable angle for any application. iPad arms featuring articulating or gooseneck supports are great for the workplace as well as the home. Perform POS checkouts with customers or follow sheet music or a recipe. Most of these adjustable iPad arms are universal and are designed to fit many other tablet brands besides Apple®.
What kinds of adjustable tablet mounts are available?
Gooseneck iPad arms offer a wide range of movement within a minimal footprint. This is what makes these models desirable for retailers who use tablets for card payments. After employees swipe a purchase, they can swing the tablet enclosure over to the customer to sign. In addition, these iPad arms can be used with the included base or mounted directly to the countertop for extra stability.
Articulating arms extend the available distance beyond what the gooseneck styles can provide. These models feature desktop clamp mounts that attach with the turn of a hand screw. What makes these holders attractive to users is their effective range. Tablets can be pulled up for viewing, then pushed out of the way when not needed.
Wheelchair accessible iPad arms are a specialized application that attaches to the chair's frame. The articulating supports adjust to hold tablets comfortably in front of the viewer. Moreover, the mount's tubular design doesn't extend beyond the wheelchair's width, an important safety consideration when moving through halls and doorways.
With so many different touchscreen brands and device holders out in the marketplace, it really comes down to compatibility. Will my tablet fit a given enclosure? We strongly recommend reading each product's specs to help verify if yours will work with one of our mounts. We strive to make our tablet holders as universal as possible! However, device adjustability comes in at a strong second. Our gooseneck and articulating designs provide users with convenience and flexibility. To incorporate another level of security, try affordable cable locking systems that feature combination locks and 6-foot cord lengths.