Floor Standing Display Cases for Highlighting Merchandise, Trophies, or Collectibles
---
Glass Display Towers Showcase the Finest Merchandise for Shoppers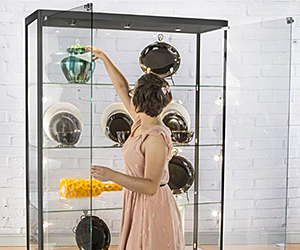 When adding products for sale inside your retail store, certain items need to be protected. Floor standing display cases offer merchandise behind glass and, in some situations, under lock and key. Keep objects clean from dust and fingerprints while protecting them at the same time. Our collection of floor standing display cases handles the job beautifully. Featuring many framed and frameless designs, glass towers put the emphasis on the item with their transparent construction and internal spotlighting. Whether you're displaying products, antiques, or collectables, quality of presentation is paramount. Let Displays2go supply your store or residence with professional floor standing display cases!
What are the finer points of these tall retail showcases?
All floor standing display cases feature tempered glass walls, doors, and shelves. The added strength tempering provides makes it possible to exhibit heavier items such as trophies, bowls, or art glass.
We sell styles in many widths, ranging from narrow towers to cabinets reaching 5 feet across. The freestanding designs allow shoppers to encircle cases in their entirety. More importantly, this gives customers a better view of the object displayed.
If items or merchandise change in size, we suggest purchasing cabinets with adjustable shelving. The shelf supports are located along the corner extrusions. Simply unscrew to loosen and slide up or down to the required location.
We currently offer both LED or halogen lighting options. While LEDs are superseding halogen bulbs in use these days, they are a little more expensive. However, light emitting diodes offer longer life, low heat, and cost pennies to illuminate. Depending on the model, spotlights are usually placed along the sides and at the top of the case.
Cabinets with storage bases offer great convenience. Use the hidden space to store supplies or merchandise replenishment.
In addition to all the selections based on width, we also offer museum-style pedestal displays. Designed for either a single item or a small group, these standalone fixtures do a great job of enhancing the presentation at hand. When it's important to point attention at one object, as in a gallery-type setting, pedestal cases look very professional.
More features like sliding or swing-open doors, rolling wheels, and locks, may or may not be included with all models. Since there are many kinds of cabinets to choose from, we suggest taking the time to confirm a possible display case for purchase has the particular feature you require.
75% of all fixtures offered here ship fully assembled via freight. While this saves you time not having to assemble the unit at your end, it does affect your shipping cost considerably. Display towers that ship flat for customer assembly are a possible alternative!
The majority of applications using display showcases is overwhelmingly retail-oriented. Outfitting a store with brightly-lit merchandise like jewelry, artisanal gifts, action figures, and more under glass is a time-honored practice. What about other uses? There is a trophy case for housing sports awards and accomplishments in almost every high school and university. Libraries rotate monthly displays and/or presentations by authors, artists, and local citizens. Personal collectors, showing off their dedication to collecting a particular theme or object, display these cases in the home. No matter what the application is, there are always options for public viewing and/or exhibiting. Cabinets designed for wall mounting save on floor space while still offering protection for valuable objects or merchandise.