Digital Media Streamers and Players with Full HD Playback for Signage & Entertainment
---
In-Store Digital Multimedia Players for Streaming Advertisements, Music, and Video
Is your business looking for a streamlined way to present your downloaded videos, music, and images through your commercial television? Browse our selection of digital media streamers and players to take the headache out of uploading fresh promotional content to support your organization. Use these multimedia systems to showcase advertising material including menus, product listings, and company photos. Digital media streamers and players share company slideshows, movies, and entertainment uploaded via USB, WiFi, or Bluetooth. Multimedia systems present video and image files to your commercial TV or electronic sign. Digital media streamers and players provide customers with personalized content and help with marketing campaigns and information sharing.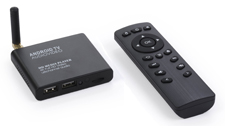 What are the benefits of a commercial multimedia system?
Our digital media streamers and players come with integrated Android or 11Giraffes content management software. Each is capable of displaying content in stunning 1080p or 4k resolution. These systems give users a familiar interface similar to most smartphones.
Uploading promotional messaging is easier than ever. Simply plug-n-play via USB ports with any thumb drive or connect to this device through WiFi or Bluetooth. Media streamers and players, depending on the model, can project onto one or two monitors for dynamic presentations.
We offer the DisplayIt!Xpress content management software as a separate package. This system provides better connectivity between desktops and advertising fixtures. This all-in-one program is supported by MAC, Windows, and Android OS. This includes a permanent licence to software that will increase the effectiveness of your campaigns in public venues.
Media streamers and players place content exactly where you need it most, directly in front of your customer. These electronic content managers plug into your TV to run movies, advertisements, music, and audio. Our selection of streamers and players are designed to support nearly all media types seamlessly, reducing compatibility issues. Mix wall-mounted television advertisement systems with interactive floor stands in public venues to create a more engaged client base. Communicating with your guest via multiple channels boost your customer experience and creates a more memorable display.