Retail Wall Shelves for Store Displays & Decoration
---
Retail Wall Shelves - Wall Mounted Panels & Store Displays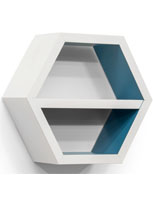 Don't overlook your wall space when designing your store layout. Retail wall shelving plays a critical role in the success and effectiveness of any retailer's floor plan. The best-planned store layouts not only incorporate wall shelves into the décor but the overall plan, theme, and flow of the shop.
Why Are Wall Display Shelves Important?
Frees Up Floor Space: No matter what retail floor plan you choose to employ, you need to make sure it's open and easy to navigate. Wall shelving helps open up floor space, allowing for better traffic flow and a more visually pleasing store layout.
Moves Merchandise Up to Eye Level: Retail merchandisers all know that eye level is buy level. The more visibility you give your products, the better the chances of you making the sale.
Reinforces Brand & Décor: Brand and theme play a vital part in choosing the perfect wall fixtures for your store. All of your retail displays need to be cohesive and accurately reflect the personality of your business.
Though brand is an important consideration in choosing your wall shelving, the biggest factor is your merchandise. Different store merchandise necessitates different displays. Chances are you won't be using the same shelving unit for clothing as you would for power tools. Weight and size play a huge part in the decision process. The bottom line is your wall displays need to showcase your products in the best light possible.
At Displays2go, we carry some of the most popular retail wall shelving styles, including floating wall shelves. They are perfect as accent pieces to enhance your store's décor. Due to their low weight capacity, these shelves are best used for lighter merchandise or solely for decorative purposes.
Store walls are the largest and most visible areas of any retail space. Leaving them bare is a no-no, but stuffing them with props and fixtures isn't the answer either. Instead, find the perfect balance between negative space and displays. Use pictures, retail signage, mannequins, and other accent décor to complement your retail wall shelving. Rearrange your fixtures to keep your store layout looking new and updated. Many of Displays2go's retail shelving products are adjustable, allowing you to refresh your store's setup in a snap.